Knee Dragger
Join Date: Apr 2007
Posts: 111
Thanks: 0
Thanked 2 Times in 2 Posts
Feedback Score: 2 reviews
FI code help
---
I replaced the Pair valve with the block offs... and put on some new velocity stacks.. now i'm throwing a FI code.. how can i research this to find the problem ?


Also i was going to install my HRC 1/6th turn... anyone have a how to ? i can figure out how to get the bottom cable off
---
looking at next years options
**Miss O'Seven BOTY 2011**
Join Date: Jul 2003
Location: Central Florida
Posts: 51,241
Thanks: 1,988
Thanked 2,509 Times in 2,129 Posts
Feedback Score: 148 reviews
There's a "test plug that you need to ground, and count the flashes of the FI light. The plug is under the seat, right side of the bike, near the ECM , at the right rear of the battery. There are 2 wires to the plug, and you need to jump them, then turn the key "on", with the kill switch on "run".

If there's a code, the FI will flash your code(s). Count the flashes.

There's long blinks amd short blinks.

Long = 1.3 seconds

Short = .5 seconds

If you have a long blink, the 3 short ones.....that's 13.

A long blink = 10

A short blink = 1

9 short blinks = 9....and so on.

Let us know....

CODES:

0 - bank angle sensor, ECM, PGM-FI fuse
1 - MAP sensor
2 - MAP sensor vacuum hoses, or sensor itself
7 - ECT sensor poorly connected or open circuit
8 - TP sensor, TP senspr wiring
9 - IAT sensor connection, or open wire
10 - Baro sensor, or connection, or wiring
11 - Vehicle speed sensor, or connection or wiring
12 - #1 injector connection, or faulty injector
13 - #2 injectior connection or faulty injector
14 - #1 connection or open/shorted circuit
15 - #2 connection or open/shorted circuit
18 - Cam pulse sensor, connection or loose sensor
19 - Ignition pulse sensor, connection or loose sensor
20 - faulty E-PROM in ECM.
---
Honrary Chairman
If it doesn't challange you it won't change you
Only two ways to live life. One is as though nothing is a miracle. The other is as though everything is a miracle.

Knee Dragger
Join Date: Apr 2007
Posts: 111
Thanks: 0
Thanked 2 Times in 2 Posts
Feedback Score: 2 reviews
awsome thanks :) i'll do that tomorrow if its not raining.. i'll post results :) and see where i can go from there
---
looking at next years options
Training Wheel Hero
Join Date: Apr 2010
Posts: 10
Thanks: 1
Thanked 0 Times in 0 Posts
Feedback Score: 0 reviews
Ok, so I know this thread is kind of old, but it helped me out a lot just now, thought I'd update with a few pictures to help out someone else if they need it!
The throttle varied +/-500RPM and would cut on the freeway when engine breaking. Gave Code #1 to start with and then later Code #2.
The problem I had is First the Map sensor was not plugged in correctly and giving a code #1, but after that was plugged back in it was throwing a code #2. This turns out because there was a vacuum hose that was not reconnected. It comes off of the throttle bodies and connects to the bottom of the MAP sensor (right lower side of the air box, 3pin and black)
Map Sensor Location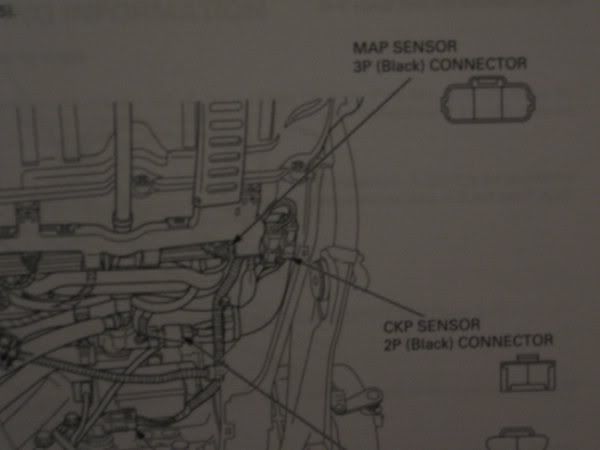 Where the throttle bodies are and where the Map Sensor Vacuum hose should be near
The vacuum hose
Well I hope this helps SOMEONE!!
Training Wheel Hero
Join Date: Apr 2012
Posts: 12
Thanks: 0
Thanked 0 Times in 0 Posts
Feedback Score: 0 reviews
Did helped a lot thanks! my hose was in but bent so much it was blocked :)
Training Wheel Hero
Join Date: May 2010
Posts: 33
Thanks: 1
Thanked 1 Time in 1 Post
Feedback Score: 1 reviews
thanks.. that was exactly my prob.. tedious but easy
Posting Rules

You may not post new threads

You may not post replies

You may not post attachments

You may not edit your posts

---

HTML code is Off

---