Knee Dragger
Join Date: Nov 2012
Posts: 144
Thanks: 61
Thanked 8 Times in 8 Posts
Feedback Score: 0 reviews
Taking third eye apart b/c of rattle
---
Alright so finally got to taking apart the third eye, after finding out from Honda that it costs like 120 or 180 for a new one!
Every time i revved my bike ( 2007 Honda cbr600rr ) to more than 3k maybe to 6k revs, the third eye running light piece would buzz rattle vibrate whatever you wanna call it.
It was unbearable, and if i would just push with my finger on it then rev the bike the sound would stop.
So these are just some pictures to help out future people having the same problem.
Im not done yet still in the process of siliconeing the housing back to together.
So first you have to take off the windshield and mirrors, then the right side fairings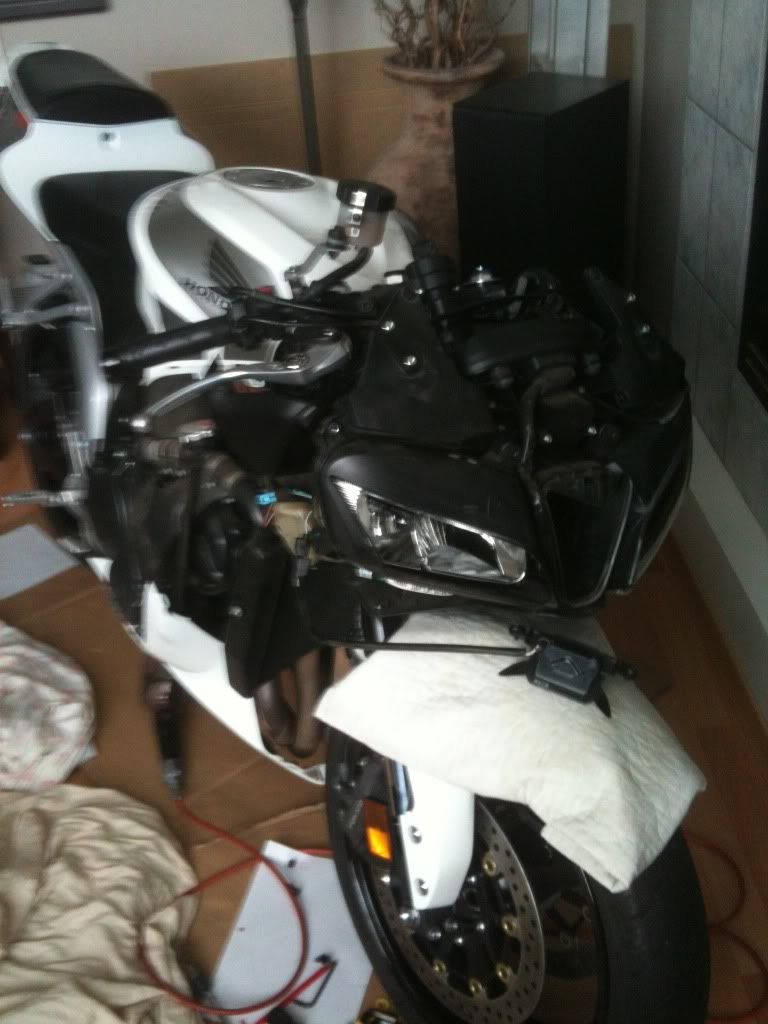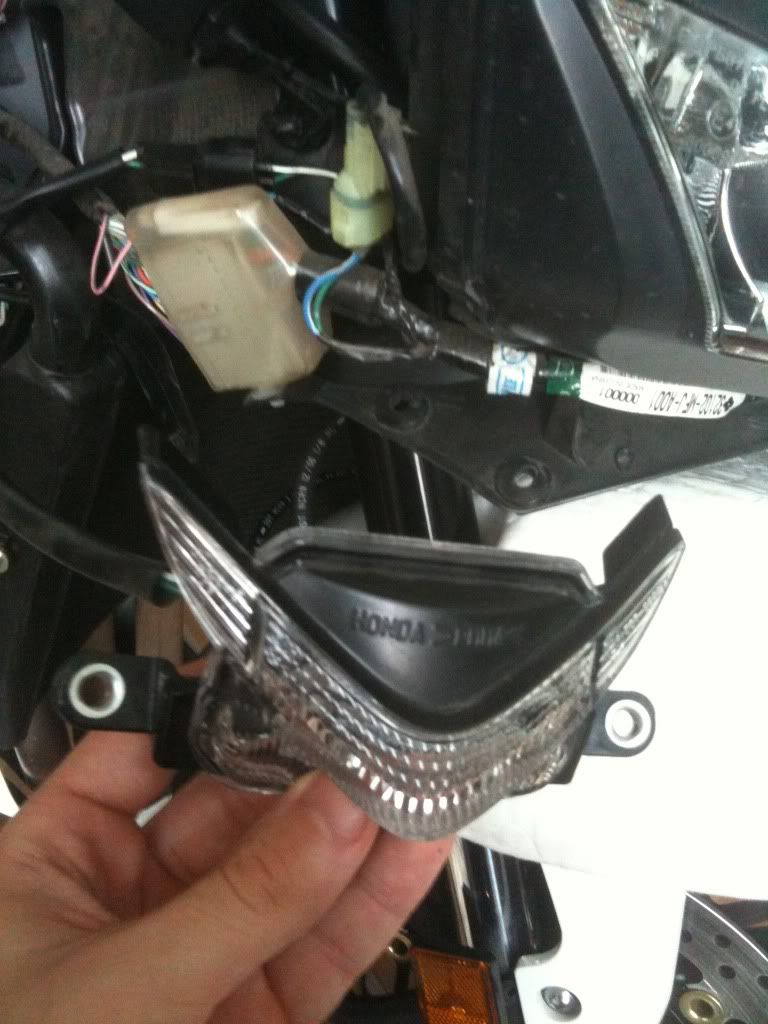 Today i took a heat gun to it, took about 10 min. was kinda difficult for me and my dad lol using small ass flat screw drivers to pop it open.
The screw in there wasn't lose but the reflector/lens (not housing) that's attached to the circuit board was hitting up against the sides of were its positioned.
Dont know if you can see in the pics but it was grinding some of the white off the circuit board as evidence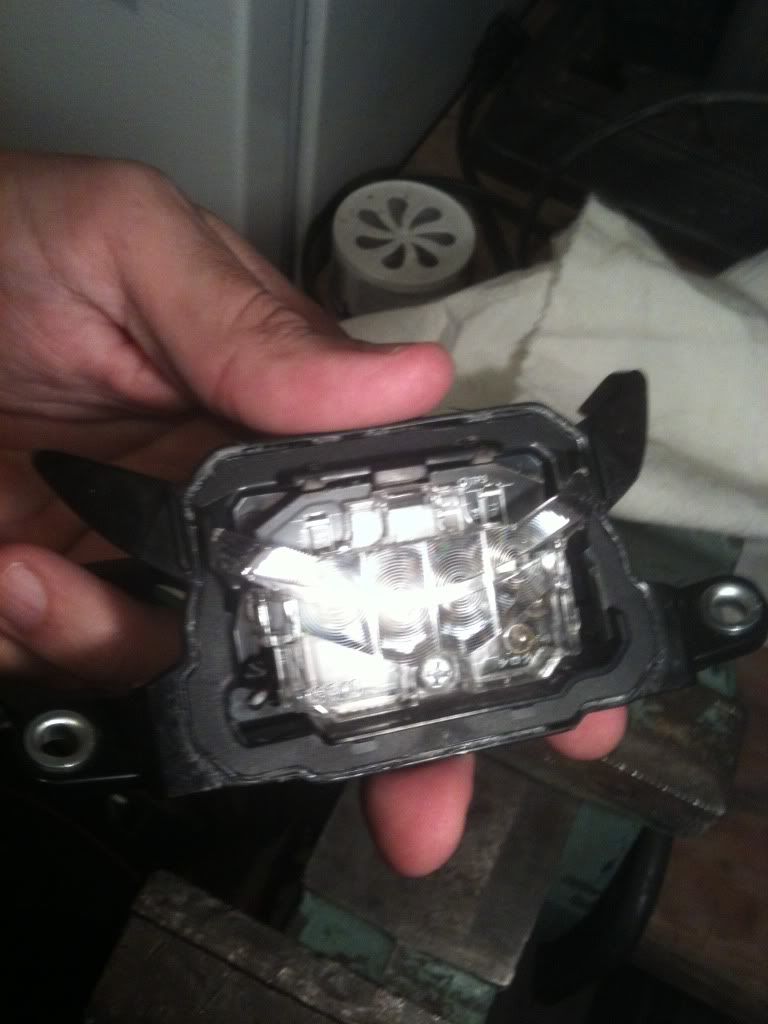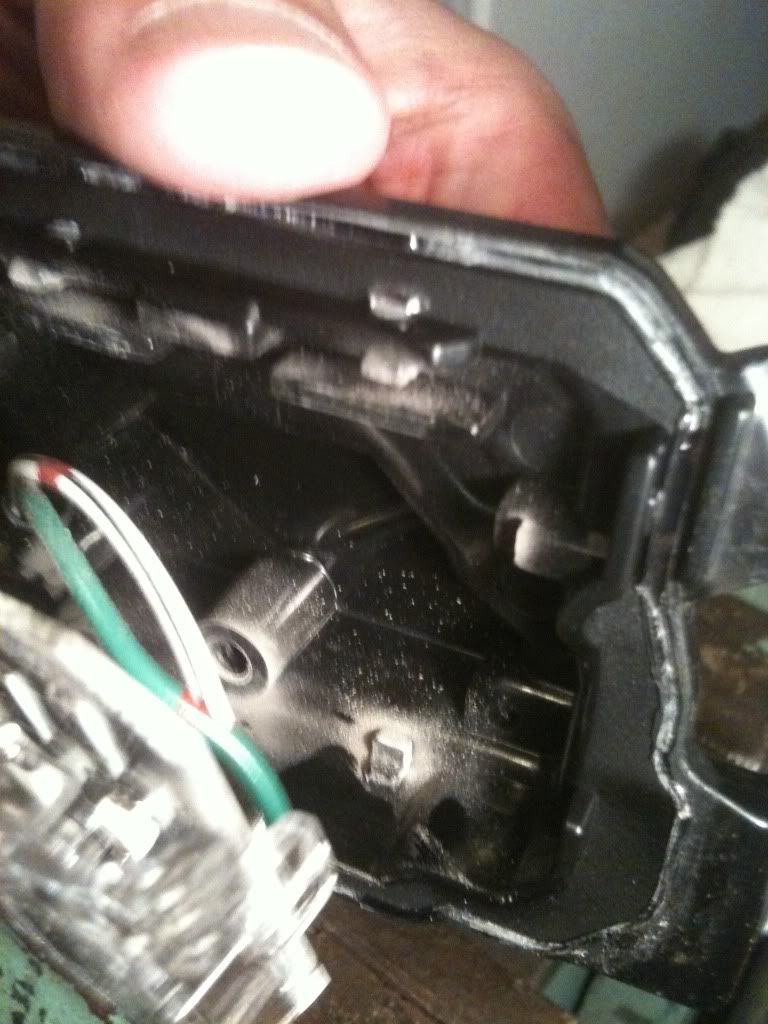 So me and my dad siliconed the reflector/lens and then put the circuit board back on it to stop any vibrating their(very minor but wanted to make sure)
We then siliconed the back of the housing were the white marks and debris was, then put the circuit board and reflector back in place with the screw. now letting it dry over night, then will silicone the front housing back on.
oh and when i first unscrewed the screw that hold the circuit board and lens in there
i screw it back on and the sound stopped! but i didnt want tot take any chances so im still siliconing the crap out of everything
Knee Dragger
Join Date: Nov 2012
Posts: 144
Thanks: 61
Thanked 8 Times in 8 Posts
Feedback Score: 0 reviews
well this all was for nothing, the sound is still there after the first ride of the season :(
Moto GP Racer
Join Date: Feb 2009
Location: shithole o' Nor Cal
Posts: 4,075
Thanks: 738
Thanked 505 Times in 475 Posts
Feedback Score: 1 reviews
put earplugs in, and enjoy riding....

ride above 7k and you won't hear it anymore!

Happy riding, don't worry too much!
AMA Supersport Racer
Join Date: Dec 2008
Posts: 992
Thanks: 47
Thanked 78 Times in 57 Posts
Feedback Score: 0 reviews
remove the third eye, go for a ride and see if the sound is there.
---
"I've got GREAT news! , I just saved a bunch of money on my motorcycle insurance by outrunning the cops."
STOLEN
My Build -
http://www.600rr.net/vb/176-rr-other-brands-bike-build/241295-lysols-08-pearl-orange-build.html
'08 Pearl Orange CBR600RR 20k miles - UPDATED 6/8/13
-Firstgear Heated Gear permanent setup
-Full iPhone setup
-Watsen Flushmounts
-JPR Shorty Levers
-SickHids CUSTOM LIGHTS!!!
-Akrapovic Slipon
-Tripage IT/LED Pegs
Lifetime Premium
Join Date: Jul 2011
Location: Outside of Philly
Posts: 688
Thanks: 31
Thanked 102 Times in 88 Posts
Feedback Score: 4 reviews
Is the buzzing from the mounting of the 3rd eye to the front fairing rather than the 3rd eye itself? If you could press on the 3rd eye and make the buzzing stop, I would have loked at the two screws that hold it to the fairing first. Maybe put some foam or a dab of RTV or something between where the 3rd eye sits in the fairing.
---
-Minx
My Modification Memoir
-
GOLDEN EYES
FS: 07+ Stock Exhaust + Heat Shield ($75)
FS: Dainese Delta Pro Pants (38 Long) - $300+
Complete:
Li Ion Battery, HID Gold Eyes, Radiator Guard, SSR Rearsets and RC2 Levers, Type 4 / 3 Brake Lines, 8149B Slip-On, FE, IT, Cluster LEDs, and LED Pegs, Sliders, Brake Pads, Corsa Screen.
Up Next:
TTX MkII Rear Shock
Knee Dragger
Join Date: Nov 2012
Posts: 144
Thanks: 61
Thanked 8 Times in 8 Posts
Feedback Score: 0 reviews
its not coming from the third eye anymore its coming from the windscreen now, im gonna try and stick some rubber or somthing inbetween the fairing and windscreen see if that stops it.
Posting Rules

You may not post new threads

You may not post replies

You may not post attachments

You may not edit your posts

---

HTML code is Off

---