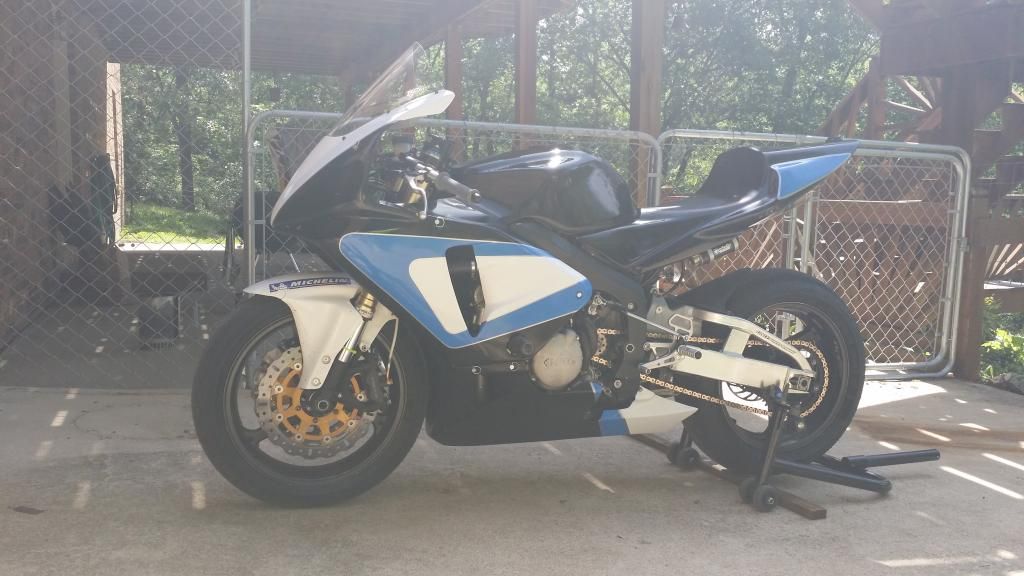 06 cbr600rr
6-7000 miles
Bill of sale (was larry pegrams supersport rider b bike in 06.)
Forks: ohlins piston kit .90 springs
Shock: Penske triple set for 160lbs
Billet upper triple clamp
Never crashed just painted bodywork (not sure on brand)
GPR damper
Woodcraft clipons
Woodcraft rearsets
NRC case cover
PC III Tuned at 115whp on pump gas (made 118 but we richened it up a tad once it got hot and humid outside)
Full leovince sbk (shortened slipon)
Bazzaz quick shifter
Lightened subframe
Aluminum battery box
Ignition delete
Corsa windscreen (BIG IOMTT style)
BMC air filter
New plugs
New thermostat and gaskets
Radiator was flushed cleaned and inspected
Renthal grips
Front master cylinder, reservoir and lever from Apex Triumph
EBC floating wave rotors
Lightweight rear brake rotor
SBS dual carbon brake pads
Speigler braided lines
Half a season on this set of clutches
Will have a lightly used set of Michelin Cups when sold (pending how far through the rest of the season before selling it)
Extras:
Forks with Penski piston kit with .85 racetech springs
Cat cycles rearsets (one off set for Larry Pegram)
Cat cycles clipons (one off set for Larry Pegram)
Cush drive with sprocket
OEM starter / flywheel
Levers
Wheels (need straightened, mildly out)
Oem upper triple
Oem rubber brake lines
2 sets of crashed bodywork, can be combined if you can work with fiberglass.
New supersport tail (uses Oem seat)
Oem rotors
Will sell with stands if price is met
Maybe more I'd have to have the bike in front of me? I will have it at HTP next weekend...
4000 obo im zach 6362215051 St Louis Missouri