Everything is on ebay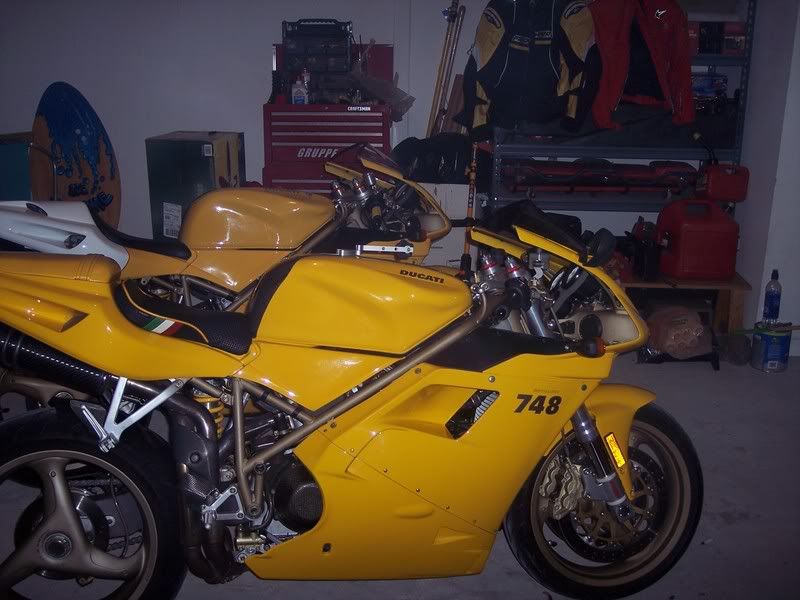 Price 7850 with the extras
2000 Ducati 748 Bipostal
Miles 13,337 Color Yellow.
Upgrades:
Evoluzione Billet Clutch Slave Cylinder Black
Ducati Performance Full Carbon fiber tank and key protector
Ducati Performance Full Carbon fiber rear chain and mud protector
Ducati Performance Carbon fiber heal guards for front and rear passenger pegs
Ducati Performance Carbon fiber heat shields
Heli bars (excellent upgrade for comfort and touring)
Sargent Seat with Italian flag and yellow piping
Micron Slip on exhausts
DesmoTimes Case saver
Condition:
Bike is in excellent condition and has never been raced or downed/dropped. There are two blemishes on the bike. The first is on the left side of the bike on the air box were there is a few scratches that were done during service when removing the tank. The 2nd is at the very rear of the bike were the tail light sits there is a very small crack. All of these are very minor but I think I should do full disclosure for fellow ebayers. There are also a few rock chips in the usual areas of the bike very minor. The front driving headlight is a little hazed but I think can be cleaned or refurbished but it never annoyed me.
Service:
I do oil changes every 2000 miles for two reasons. One being I can check the oil for anything that is not supposed to be in it and for the other it gives me an excuse to take off the fairings for cleaning and expecting the bike over. The 6,000 mile service was down with invoice to prove it witch included valve adjustment, replacing the coolant tank and battery that was done in 2005. The 12,000 major services was done with invoice to prove which included replacing the chain, wheel, and wheel pins, checking the valves, replacing the belts, replacing the spark plugs and syncing the throttle bodies. My mechanic reported all the rocker to be in excellent shape and none of the closers needed adjustments which indicate to him the bike is not at redline often. This was done in September of 2006.
There is no issues with the bike it performance excellent I just had it dyno'ed and it made 91hp and 50tq to the wheel in January of this year, which is very healthy for a 748. It does not leak oil or burn it. It has no leaks what so ever.
I have two lights out on the bike the first being the coolant temp bulb is out and the rear license plate bulb it out I have both bulbs that I will include in the sale and don't think I will have time to replace them my self. I also need to replace the rear brake booster I have it on order and it will be replaced when the winner comes and picks up the bike. Again I just want to be upfront with everything I know about the bike.
Included with the bike:
2 Keys
Ducati Tool kit
Owners manual
Invoices for parts, service and repair
Ducati OEM service manual on CD
Dyno Sheet
And Haynes repair manual
For the Buy it now option ONLY: I have a very sweet deal not only will you get this awesome exotic bike but because you clicked the buy it now I giving you
Ducati Front Stand (Value $50.00)
Ducati Rear Stand for single sided swing arm (Value $100.00)
2 K&N Oil filters (Value $24.00)
9qts of Amsol 20-50 oil (enough for at least two oil changes) (Value $72.00)
Ducati OEM Fuel filter (Value $40.00)
Ducati Bucci Cam Belts (Value $75.00)
Ducati OEM gasket for fuel tank (Value $13.00)
CA Cycleworks feeler gauges (Value $24.00)
Front and Rear Brand New Dunlop Qualifiers (Value $270.00)
A picture is included for your review.