Hey guys: I am helping my brother-in-law sell his bike.
I can vouch for him, he lives right down the street. This is not my bike!
Email him with questions:
[email protected]
2004 Honda CBR 600RR
Electric blue which was only made one year.
4,569 miles. Never been down or abused.
F4i sprocket in the rear. +3
70% tread on both tires "pilot powers"
Gregg's front turn signals
Tripageled 2 white 1 blue in the middle third eye.
Tripageled LED integrated turn signals on the rear pegs. 24 red led's in each peg.
Tripageled Gauge cluster lights have also been installed to have blue lcd screens, white needle and there is also a flashing Blue led in the gauge cluster that turns on when the bike is turned off to simulate an alarm(no Alarm)
LED accents on the front and rear hugger.
Tripageled FE
Relocated rear brake res.
Jardine slip on exhaust powdercoated gunmetal grey, can has a custom bracket that is not visable(no clamp around the pipe)
Yo-Yo Frame sliders
Shorty levers by Tripageled
Other parts Powder coated:
Wheels
Forks
Swingarm
Pegs and rearsets
Engine case covers
Brake and clutch levers
Bar ends
Gas cap
Upper triple tree
Brake calipers
Rear sprocket
Hi-Temp black mid pipe.
Painted rear seat cowl to match.
Some of the powder coat on the swingarm got some brake fluid on it so it has a flaw by the brake line. I was going to put a 2005 swingarm on it but never got around to it. If the buyer wants the swingarm powder coated again I can have it done at no charge. But you will have to take the swingarm off to have it done. I just don't have the time to do it.
I have both keys, and manual. I am the original owner. Has the remainder of a 5 year Honda factory warranty. Warranty is transferable. $7000obo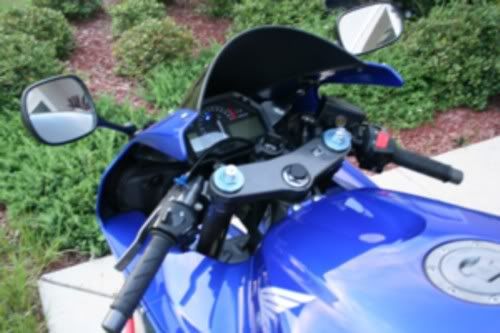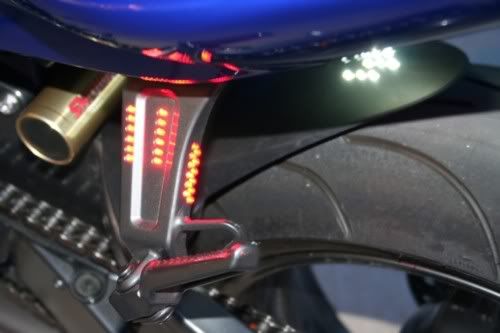 Flaw is just in front of the rear brake caliper