FS: Racebike (2005 CBR600rr)
--------------------------------------------------------------------------------
--------------------------------------------------------------------------------
I hate to let her go; but she does not get ridden anymore (other than a trackday a month) and I know somebody could have alot fun or win races with this bike.
Details
I have owned this bike since it was in the crate
2005 Honda CBR 600rr approximately 6000 miles
121.6hp at the wheel during last checkup/maintenance (Novmeber 2011)
Bike is located in San Diego, CA
On the Bike
Penske Forks (by CTR suspension) setup for 210lbs rider w/gear
Penske "Tripple Clicker" Shock (by CTR suspension) setup for 210lbs rider
Galfer Wave Rotors
Galfer Lines
Vortex Clipons
Vortex Rearsets
Vortex Gascap
Vortex Fairing Stays
CRG Roll-a-Click Levers
Mycron 3 Onboard Computer (replaces guage cluster adds built in Laptimer) as seen in MotoGP, WSBK, and AMA
GPR Damper
Yoyodyne Throttle Kit (adjustable from one-quarter to one-sixth turn)
Yoyodyne Starter
Dynojet Power Commander III USB
Dynojet Ignition Module
Dynojet Quick Shiter Kit
NRC engine cases
Leo Vince SBK full system exhaust
Included in Sale
Spare unused swingarm assembly with bearings
Chickenhawk Tire Warmers
Race Transponder
Lap Timer Beacon
Lap timer Reciever
Spare OEM Rotors
Spare Ignition switch
Spare OEM shock resprung by CTR Suspension for 210lbs rider
Spare Cush Drive
Spare VOrtex Clipons
OEM Clipons
Additional Throttle Plates
Additional Galfer Brake Pads
Additional NEW sprockets 44 and 45 Tooth (46 tooth on the bike)
Oil Filters
Spare Brakelines
OEM Brakelines
Spare Rearset Components
Spare Levers
10 Gallons of MR9 Race Fuel (Not Pictured) - Bike runs great on 93 but you get good gains from MR9, each 5 gallon can is usually around $120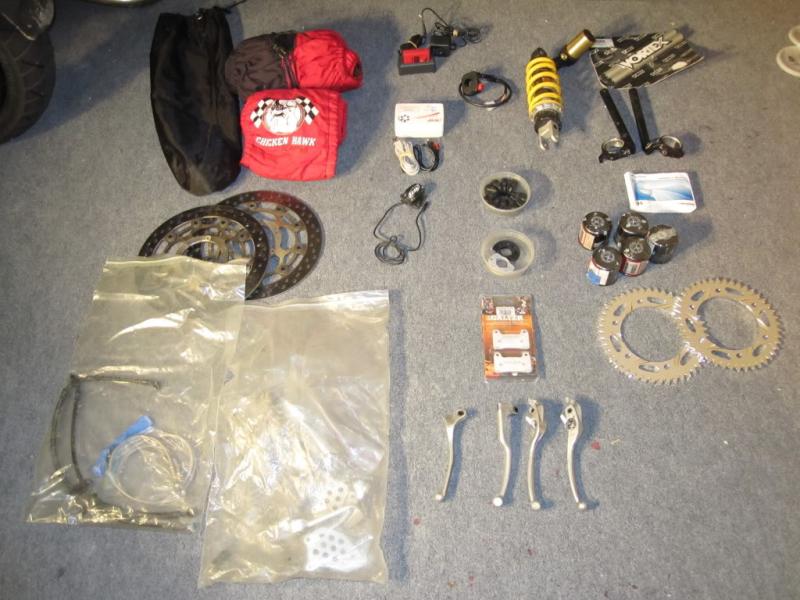 I will be keeping my current Race Glass (sentimental value), but I do have a set old bodywork (it needs some paint) that could be included and is pictured above.
$2000
I can be reached via Private Message.
Thanks for Looking, David.