Discussion Starter
•
#1
•
I am putting my other bikes up for sale.
First off, we can start with the 2006 600RR. It hasjust over 6000 miles on it. Awesome condition
bike
. Been kept in doors most of the time. It has been ridden in the rain and all that good stuff. After all the bike is there to ride. Comes with Yoshi RS5 Exhaust, LED Peg turns, DB ZeroGravity Smoke Screen, Polished Rims, Fender Eliminator, GPR Stabilizer.USB PC3, Hot Bodies Flush Mounts, Telefonica Decal Kit, HID Look aLike Lights, Internatrix Alarm w/ 2way remotes, Seat Cowl, and few other items. I can include the stock undertail exhaust in this if you like and an extra headlight unit (I just have them laying around). I will go down on price if you dont want some of the extras, like the exhaust, pc3, etc, but would like to sell the way it sits. $8000 obo.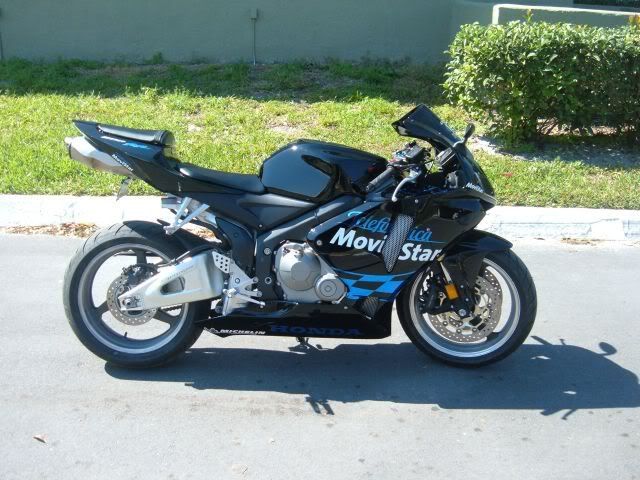 Next, a 2005 CBR 600RR. It has about about 5000 on the odo. Shows about 200 since both of my 05 speedos blew (voluntary recall) and it was replaced. I have all the maintanence records for both he bikes. This bike has, HID L.A.L. Healights, Painted windscreen, Aftermarket front turns, Two Brothers Exhaust, Grips, and it has been lowered, however, it has the stock settings on the bones. Everything is in prestine condition on the bike. There are a few other items on the bike I am probably forgetting. Still under warranty. I can do the CBR, RR,
HONDA
etc decals in any color you choose ar well. I can also make decals to go along with the bikes if you wish. Asking $7000 obo.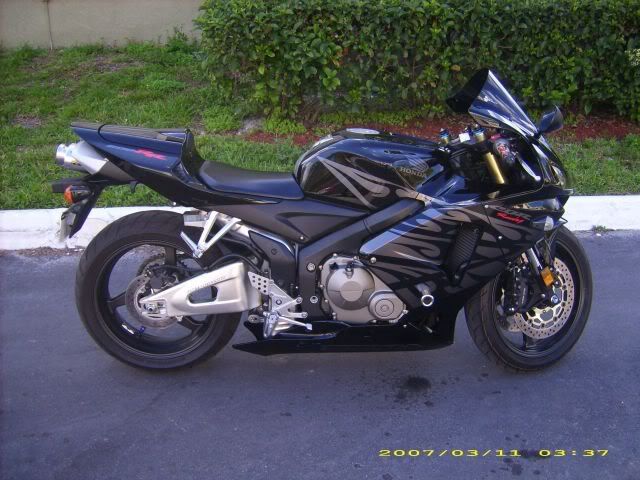 Bikes
are Located in Orlando FL but will be willing to travel up to 200 miles on my end. If you have any questions PM me.
2006 CBR 600RR - $8000 obo.
2005 CBR 600RR - $7000 obo.
Prices will go down if you dont want all the items, i.e.
exhaust
, stabilizer, alarm, etc. Let me know if you have any questions.
PS. If you are not interested in these, do not post posts about price or whatever else. Where I live, no one is getting 600RR'sfor less than about $9k + tax, (since I do work for a dealership). Some people like these body styles more (I personally do) and where I am, dealerships are selling these same bikes for more than I am, PLUS fee's, so I believe my prices are reasonable. If you ARE interested, PM me and we can go from there and see what we can work out.

Also, I still owe some on these bikes. A notarized Bill or Sale will be provided with purchase and I will forward the title to you.