Here's the pics from our last ride (11/5/05) to HighPoint, NJ. And what a crazy day it was. It started out w/ the LI's meeting up @ 8am to head out to NJ. Crip2nite, Samerr, Rob, John, and myself where right on schedule until we got into Manhattan.
We got into some ridiculous traffic due to the NYC Marathon set up and a street fair. White lining was a biatch and Crip2nite popped his cherry in reference to city riding! (I knew you were spoiled w/ the nice LI streets! Lol!). We were running late so we decided to pull over so I could call Ryans04rr give him an update. Afterall….He and a few other were waiting for us so we could meet up w/ Rev911.
So next thing you know, we're about to head off and Rob's bike died out because of all of the traffic. I later found out that he was running a Vespa battery on his Triumph (very smart)!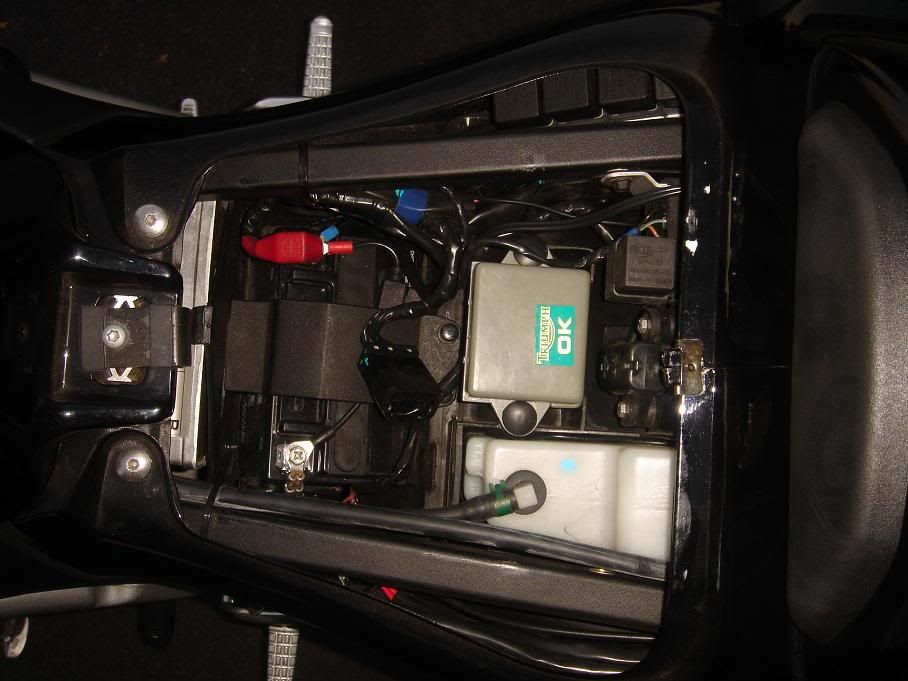 We decided to try to push start her in the middle of Manhattan w/ a crapload of pedestrians walking around, dead stop traffic, and others setting up for a fair. After a couple of attempts to push start the biatch (I didn't last too long from the lack of air, thanks to my cigarette smoking), we stopped by a cop car and asked if he could jump start it w/ his cables. He said he had cables but he couldn't help us. And there's your typical NYPD officer (protect and serve…BS!) We eventually found a guy had had cables and jump started Rob's Triumph and then we were off.
After waiting for Crip2nite to catch up, it was on to the tunnel and pretty much smooth sailing from there. We finally ended up in Totowa, NJ and met up w/ Ryans04rr, Gary, and Oye. Then onto meet up w/ Rev911 @ Hooters. We get there and NO one is there! I was kind of upset because that Focker didn't even call us to tell us he was going ahead. That guy flaked out on us!!! (I just found out earlier today that he got into a spill over the weekend and is in the hospital, I wish him a speedy recovery). Even Scrappy wasn't there, so Samerr and Crip2nite decided to head back to LI (The pros and cons of being a father) and the rest of us decided to hit up Highpoint and maybe run into the others.
So we headed off and made it to Highpoint in a reasonable amount of time. We rolled up and saw 2 black RR's parked w/ some losers sitting next to them (J/P!). It was Scrappy and eRacaer777. They misinterpreted the meeting time and meeting place so they went ahead. We hung out for a bit, BS'ed, took some pics while the Cruiser riders looking and complimented our steel horses. Here are some pics:
eRacer777, Omarvelous, John, Scrappy, Oye, Ryans04rr, Rob, Gary