Discussion Starter
•
#1
•
Ok so I am considering buying a dirt bike. I bought one for my son and he loves it, the wife and I are considering buying some so that we can ride with him. My wife is actually pretty excited about it...
So i found this one on CL and went to take a look at it...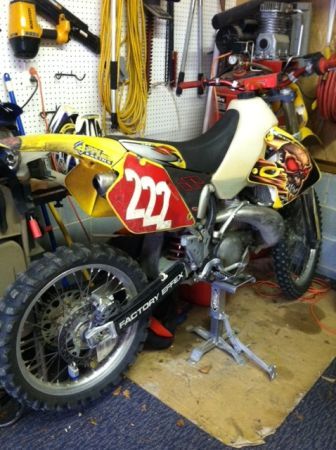 Here is the Original Ad on CL
http://richmond.craigslist.org/mcy/3180276972.html
I don't know much about dirt bikes. It is a 2 stroke and there were a few issues that i could see.
It needs new rear pads
Both front fork seals were leaking pretty badly
You had to hold the throttle because the idle wasn't enough to keep it running
Other than that it seemed to be pretty decent, the shifter was nothing like the rr, it was very sloppy and the clutch felt pretty worn. I guess this is common with used dirt bikes?
Any opinions would be appreciated. I don't really know if this is a good deal or not..
He did have an extra set of rims and tires, as well as the original service manual and stand. He also had a chest protector to throw in with it...
Deal or no Deal????