Discussion Starter
•
#1
•
Let me start off by saying this is my review on this company and their product and in no way shape or form am I trying to bash their company, Im just being honest :shakehand
I have been riding for 2 years and I love my CBR. She started off as a Phoenix until I wrecked last year :banghead:
I found a great website for some OEM plastics that I purchased in RED/BLACK. After getting back on the horse I started picking the front end up more and more and starting realizing that I am loving wheelies.
After my first wreck I knew how expensive it was to replace OEM plastics and did not want to go through it again.
With this in mind I sold my OEM RED/BLACK plastics for about what I paid for them and purchased a set of AUCTMART plastics WHITE/SILVER.
Now that I am getting into wheelies more I decided I would rather wreck a set of aftermarket plastics instead of OEM, being the reason I sold mine.
I had an idea of the quality I was going to recieve becuase I do spend a lot of time on this forum and I know no matter what site or company it is they NEVER FIT CORRECTLY.
Now the review...
The Good
They were quick to respond and take my order and money.
Cheap and affordable for anyone, around ($500ish)
The paint quality was excellent, no flaws in the paint from what I could see.
The Bad
Shipping took 3 weeks.
They only accept PayPal.
They WILL NOT talk to you over the phone, email only.
I asked several times for a receipt for my purchase and never got one.
Plastics DO NOT FIT PERFECT.
Plastics WILL MELT and CRACK.
The tail piece was my biggest concern about melting but actually held up very well. The lower plastic that says "Honda" was the one that melted on the right side of the bike and also cracked.
I took pictures of everything so here they are.
No the plastic did not crack due to being OVERTIGHTENED.
These were installed by a performance shop in the local area and have been around for years.
As you can see in the 1st picture, the tabs will not hold into the tank.
I tried using a clear adhesive as you can see but it still did not hold.
The 2nd picture you can see where the lower plastic broke off the main bolt holding it in place, keep in mind these bolts were snug NOT overtightened.
The 3rd picture you can see where BOTH breaks are.
Right in front of rear tire and right side lower (See in picture 2)
The 4th and 5th picture is where you can see the melting of the plastics.
The plastics is about a 1/2 inch away from the header, you can see the paint on the header in picture 4.
Picture 5 you can see under the "A" where it started to welt up.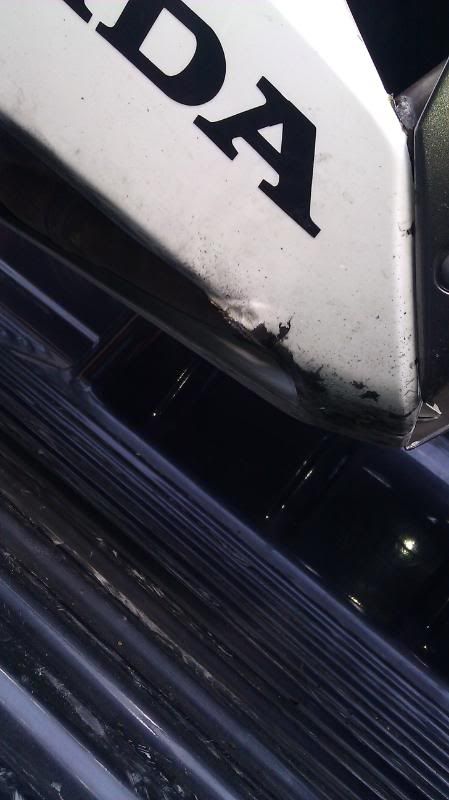 I am not upset about the plastics because I am expecting to lay the bike over soon now that I am getting a little more into the stunting scene.
But for someone who is looking for quality, I would not suggest them.
1-10
Customer Service 7
Product 6