Alright gents,
I have owned her for a little over 2 years now and i haven't done much to her. So it begins:
before:
After: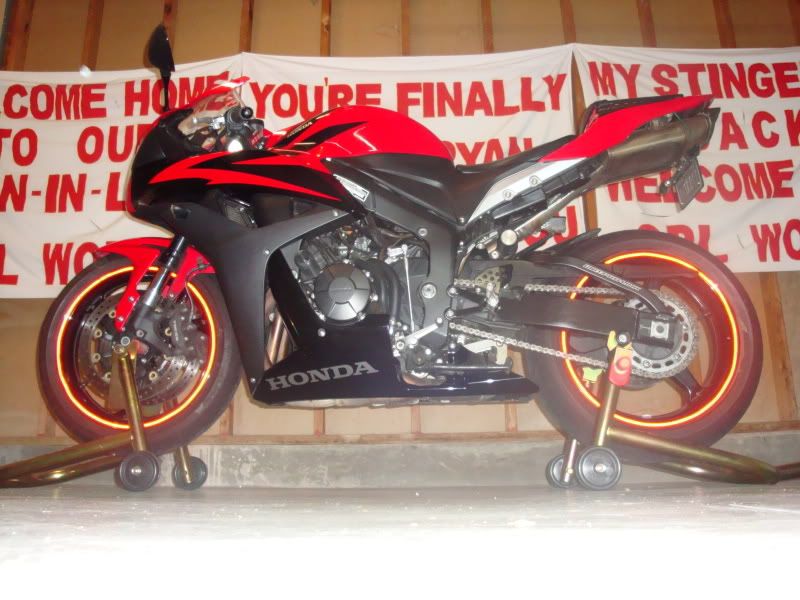 DONE SO FAR:
Tripage F/E kit
Tripage Brake light
Bridgestone BT-016 Tires (You rock Disco)
K&N Air filter
Black Mids (thanks zipheR)
2008 Grafitti Rear Sets (thanks sincalirider)
Motrax Red Reflective Rim Tape
Motrax Blinkers (Front and Back)
6000K HID KIT (DDM)
Rizoma Sportline Grips
Rizoma Conical Bar ends
Shogun Frame Sliders/Rear spools
STILL TO COME:
Akra Slip-On Exhaust
Titax Levers
Rizoma Brake Reserviors
Rizoma Mirrors (undecided which set)
Solo Seat Cowl
Galfer Steel Brake lines
Galfer Brake rotors
Grip Warmers
Tripage Knightrider Third Eye
Tripage Crazy Eyes (RED)
Tripage Delay Relay
Powdercoated Passenger Pegs
Vortex Rearsets
Honda tankpads
and all the CF I can find!!!
It seems that my appetite is bigger then my wallet so I know it will take some time to get what i am looking for but now is a better time then ever.