(CLICK ON LINK BELOW TO VIEW VIDEO).
http://www.todaysthv.com/news/article/172943/70/Caught-On-Video-Bystanders-lift-car-to-save-a-life
http://i2.cdn.turner.com/cnn/dam/assets//110913101121-mxp-mob-lifts-car-00001101-story-top.jpg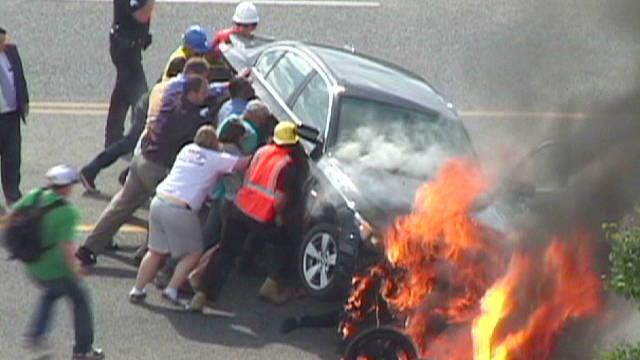 LOGAN, Utah (CNN) -- Call it super hero strength. A group of bystanders rescues a man trapped underneath a burning car by lifting the vehicle. And it was all captured on camera. It was all caught on video.
Chris Garff shoots video for Utah State and saw the whole scene from a ninth floor window. And from that window he started shooting the most compelling images of his life.
This motorcycle slides underneath this car and is dragged, sparking a raging fire. Chris can see the flames, but what he doesn't know is that there is someone trapped. Garff says, "People were getting down and looking underneath the car. You could see panic. And when I saw that panic, I said 'There is someone either in the car or underneath the car.'"
A woman appears to be speaking to the unconscious man. Half a dozen people try to lift the blazing BMW Garff says, "We were cheering them on like 'Get that car up! Get that guy outta there!'"
But no luck. Then a flood of people swarm the car and crane it into the air. A construction worker drags the limp body from underneath 4,000 pounds of steel. Garff says, "It felt like he was motionless for a very, very long... it felt like forever."
For several minutes they worked to revive him. Garff says, "I thought he was a goner."
At first nothing, but then life returns. The man is rushed to the hospital.
And the people who risked their lives, hoisting a flaming, potentially explosive car into the air worked together to save a man who, without them, would have surly died. Garff says, "What those people did was easily... It's a very selfless act and they should be commended for it."