Hello, still new to the forums. I have a few questions about exhaust in general. Right now I'm running the stock exhaust on my 2003 CBR 600RR and my mileage is pretty horrible. Unfortunately (Other than my being a new rider) the previous owner in a low dollar attempt at making the exhaust louder took a punch and hammer to the muffler.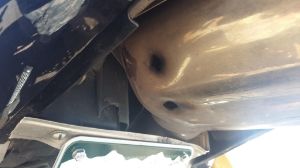 Now to the point, I was curious if this was killing my fuel mileage and power due to the loss of back pressure(Term check) in the muffler?
For the second part of this question, I'm looking into aftermarket exhausts I'm leaning towards Two Brothers M-2 Exhausts , though I did spy some dual exhausts which sparkle pretty good with me. I'm just looking for a lower exhaust note (As well as the obvious additional horsepower and torque).
I'll be popping up to the exhaust stickie thread after I post this to read into them deeper.
Thank you.