Gents/ladies,
I have decided to sell my 2007 CBR600rr. The reason for the sale is because I am a busy student in a graduate program living in San Antonio, TX - a city full of uninsured, retarded drivers, expensive insurance and no close by tracks. I am looking for $5700. The price includes everything - all the parts on my bike plus a horder's collection worth of additional oem and aftermarket parts and accessories :drunk: The bike is stored in my garage, along with my car. Most pics were taken outside because I feel that the sun does the best job of showing imperfections. The bike is not sun faded and the plastics are in very good shape with the exception of noted imperfections below.
So, let me start out with the good bits about the bike.
Good:
low miles ~ 4200
clean title free of liens in my hand
new battery
Traxxion AK20 front cartidges
Penski rear shock installed by Traxxion (both set for 165 lb rider)
Motovation front and rear sliders
Woodcraft clipons, case covers, and cut frame sliders
ASV folding levers
LP visor
Honda oem factory seat cowl and passenger seat
Goodridge steel braided lines front and rear
ALTH front rotors
Jardine RT-1 CF exhaust (shortened 2 inches) and Jardine license plate mount
Woodcraft rear spools
Scorpio Rlink alarm (unhooked main control module - needs to be verified that it works since it was on the bike when I spilled it - more to follow)
Pirelli DC3 tires
no internal engine mods
a couple bins worth of extra parts including all the factory parts that were replace with aftermarket parts (rearsets, extra set of lights, and tons of spares)
Vortex rearsets
The not so good:
The bike was low-sided twice. The first time was on the right side by the original owner at Road Atlanta. Most parts were replaced after the wreck with OEM parts. The second time was by me at Putnam. I lowsided it on the left side causing some tweakage to the forks, a bent clutch lever, and broken clip-on. The clutch lever never bothered me, the clip-ons were replaced with Woodcrafts and the fork cartridges were inspected by Traxxion and re-installed in a new set of forks. The bike is not a garage queen and has some imperfections cosmetically, but no structural or mechanical issues that I am aware of. I put a couple hundred miles on it following the wreck and feel perfectly comfortable/safe on it. The cosmetic imperfections include: scuff on the tip of the Jardine, scuffed right side woodcraft case cover (mint spare OEM included), scuff above right frame slider on mid fairing, broken left upper fairing stay tab (from my lowside), and bent clutch lever. All the problems I have listed are cosmetic and never bothered me.
I am looking for $5700 sold here locally. Unfortunately I won't be able to assist in shipping. I have no need to sell the bike, just a preference to. So, please don't waste my time with sob stories, tire kicking, etc. If the bike doesn't sell by April I will take off most of the aftermarket parts and sell the bike in as close to stock condition that I can. I am also willing to consider trades for certain items including: high end dive watches (Rolex, Omega, Breitling - no fake ****), a Macbook Air, powder coating work (I have a set of STI wheels I need pc'd), a nice dual suspension mountain bike (I'm 5'10" - mainly interested in a Santa Cruz Superlight, Blur or another light XC dual suspension bike) and high quality tool chest :banger: Please feel free to email me at robis 1923 at gmail dot com. I am happy to exchange my # via pm or email for further questions. Thanks for looking and ride safe everybody.
Here are a couple pics to get you all wetting yourselves. The rest can be viewed in my album (link below)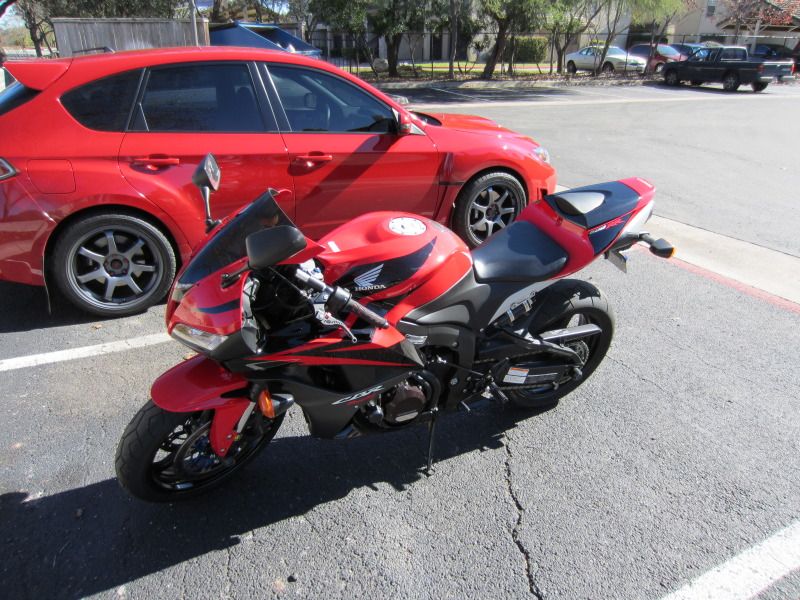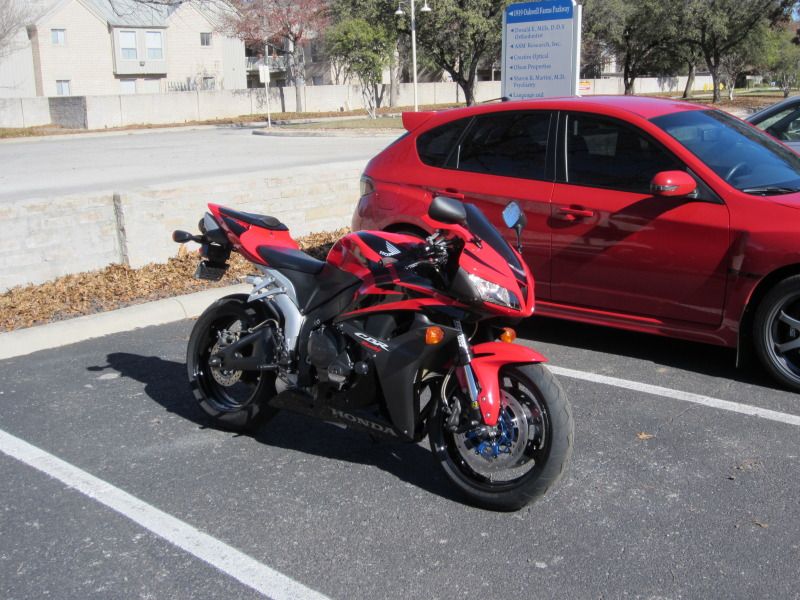 Yes, that is my STI in the background :bootyshak
Here's a link to 47 pics:
http://s29.photobucket.com/albums/c296/rob_prevatt/
Obviously, all pics of stuff after the motorcycle aren't included
~Rob