Discussion Starter
•
#1
•
hey guys this is my first vendor review because im extremely happy with my experience with the motomummy.com staff. but first the goods!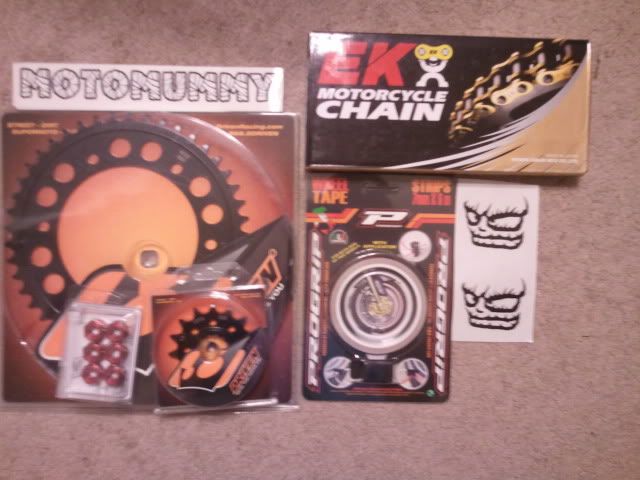 driven front sprocket (-1)
driven rear sprocket (+2)
driven sprocket nuts red
pro-grip wheel tape, reflective red
and finally EK 520MVX red chain
it was time for me to do some upgrading so i researched and finally pulled the trigger on motomummy. they had everything i was looking for except the STM red engine oil filler cap. but all the other stores including motorcycle-superstore did not have the pro-grip tape for some reason (i guess its on backorder) anywho motomummy had it and im glad they did.
my original order had the red RK chain and that is what i purchased... well as soon as i ordered i had left my house, and not even 10 minutes later i got a phone call from a strange number, so i answer and its corey from motomummy letting me know that the RK red chain get returned most of the time because it almost looks pink and would i like to change my order to the EK chain!! and of course i did. he changes the order and lets me know that he'll get it shipped out that day!
overall i am extremely pleased with the entire experience and would recommend them over and over. :shakehand
and props to corey for being awesome at his job! :banger:
order was placed 3/31/2012 11:45 am
order was received 4/2/2012 4:15 pm