Hey guys, got an 04 cbr600rr with 18k miles. So I was out riding today and after a couple hours I hear this noise. Sounds like a chopper lol. Its definitely coming from the engine and not the muffler. I do smell gas and it backfires somtimes. I also experience some power loss because I have to push the throttle a bit more than usual to take off or it stalls.
I just got it back from the shop after a waterpump replacement. The tech told me I should do valve adjustment since its past 16k but he said I could wait until end of the riding season. Going to take it back again but wanted to get an idea of what it is before I do that. Sound like valves or an exhaust leak? Any ideas? Any help is appreciated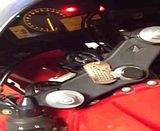 **edit: click on the picture. its a video from my photobucket.