Discussion Starter
•
#1
•
Alright guys. It's posted on other forums but I didn't see one on here so I thought I would post a how-to on this. Hondas are well-known for engine ticking and it's always been the cam chain tensioner. For as long as the CBR as been around, it's cam chain tensioner has been junk and Honda has yet to do anything about it. Even the new bikes have the same problem so what can you do? Buy this adjustable one from APE racing. It's a great product and makes life very easy.
http://cbrzone.com/sprockets.html
(All pictures were taken from google, so thanks to their owners)
First you will have to remove the right side mid fairing. Then remove the tool box that sits in the frame. After that you should end up with something like this, with the OEM tensioner visable.
Unlike the F4i and earlier CBR600s, our tensioner is very accesable. However, I found it hard to get the needed torque to remove the allen bolts with an allen key, and there wasn't enough room for a T-handle. So I highly recommend getting a 5mm 3/8" drive socket. (I believe it's 5mm, but I'm going by memory here so it could be a 6mm, but I'm 90% sure it's 5mm.)
Next, remove the two allen head bolts which you can clearly see in this picture.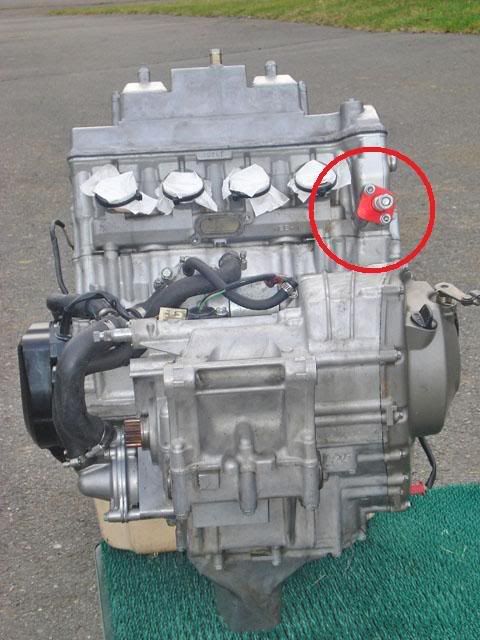 Removed the old tensioner and take out your APE Racing Adjustable Tensioner.
Loosen the lock-nut, and back the bolt out as far out as it will go. The dimpled, non-bolt head side is what goes in the motor, so don't try to jam the bolt head into the motor lol.
After you back off the bolt, make sure the OEM gasket is still in place, or use a LIGHT coating of RTV silicone. Then install the new tensioner and torque the allen bolts back down (I don't have the exact specs on hand, but tighten them without going muscle-milk on them.)
Now the fun part...tuning it. Tighten the big middle bolt on the tensioner until it is hand tight and you feel some pressure on the chain. Start the bike and give it a few revs to where you were hearing the chain rattle, most likely between 4-6. Turn off the bike. Tighten the tensioner bolt in small increments and retest untill you're rattle is gone. You don't want it too tight, so a little rattle is ok. A little loose is better than too tight. After you find the sweet spot make sure you remember to tighten the lock-nut as well.
There you go. :five: