·
BOTM Winner 09/12 Repsol DaRizzo And Don't U Forg
Selling my 03 Honda CBR 600RR because I just don't ride it anymore. I've cared for this bike over the last 7 years with only riding it every now and then. It's never been redlined, done a burnout or wheelie.
I've washed the bike after every ride and I know the next owner will enjoy it like I did. See below for more information.
Year: 2003
Model: CBR 600RR
Mileage: 14,683
Price: $4,750
Title: Clean
Location: Near Auburn Hills, MI
Reason For Selling: Purchasing a new truck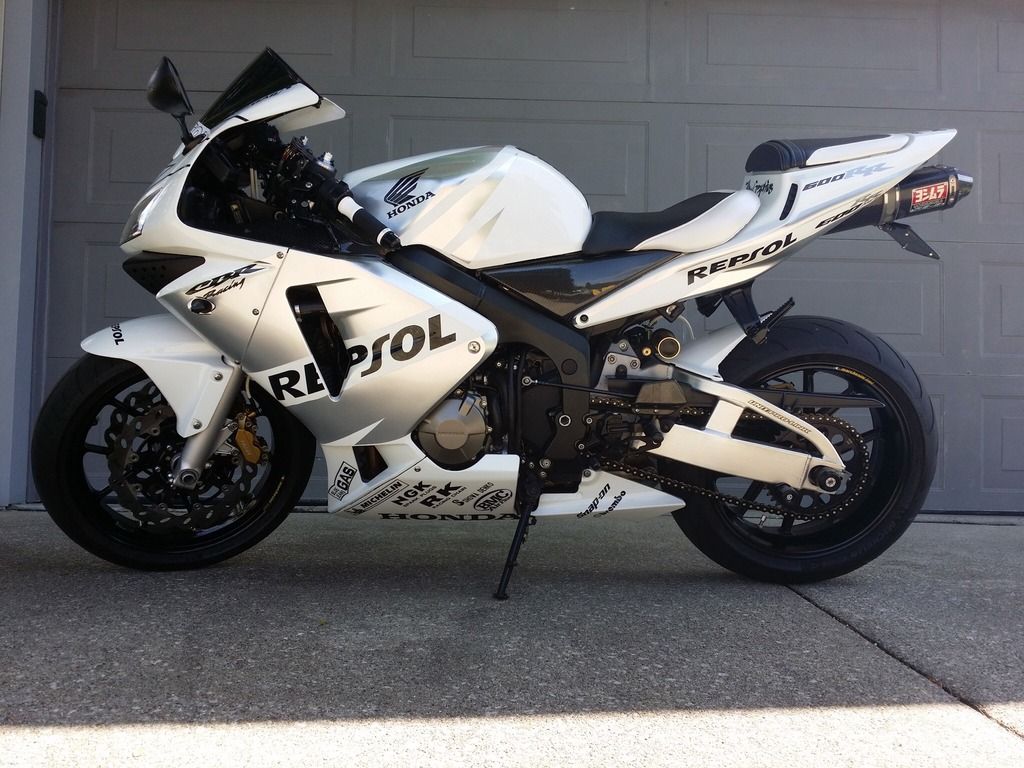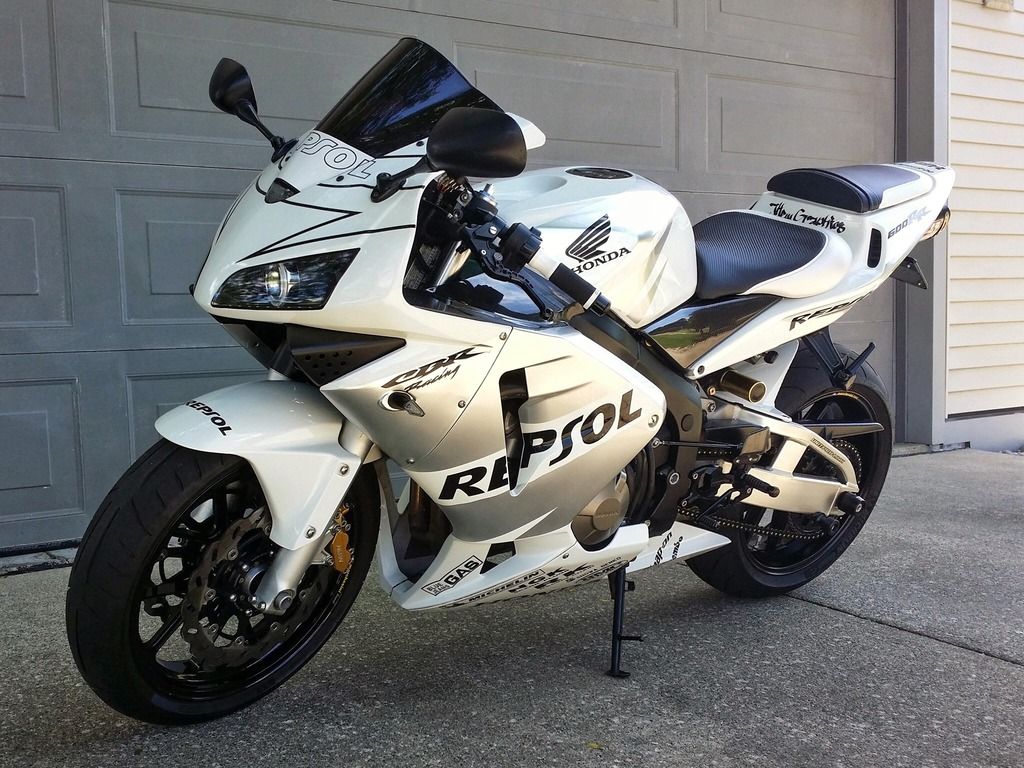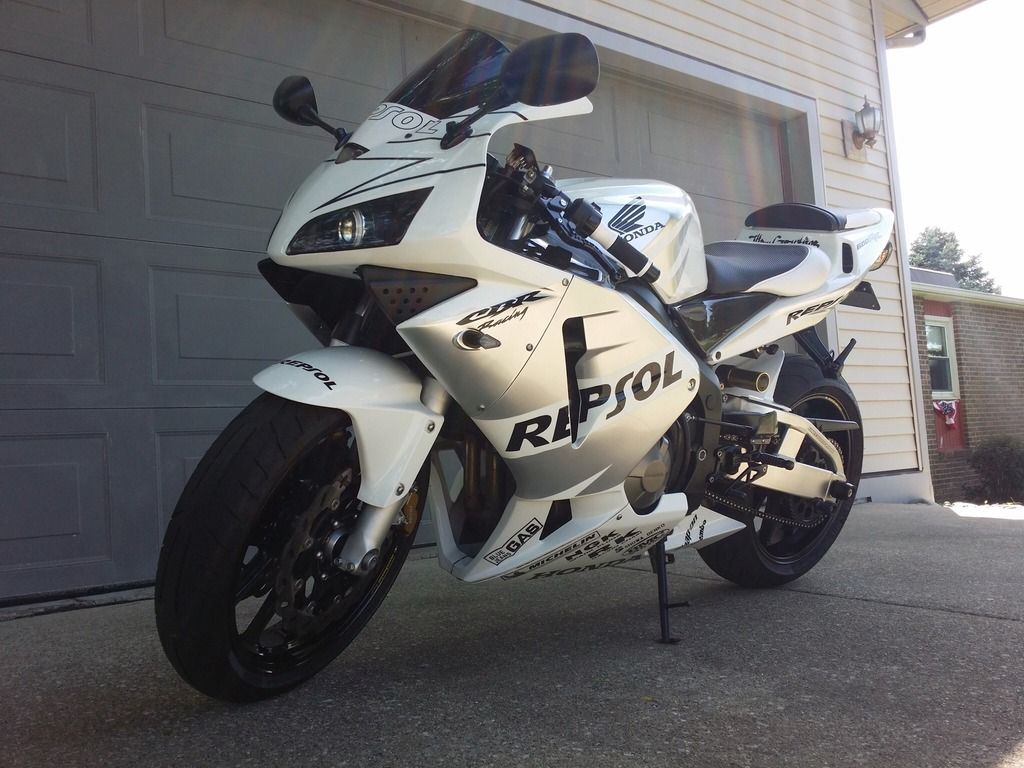 Below are the modifications currently on the bike:
Dynojet Power Commander III USB (Custom Tuned)
Yoshimura RS5 Slip On
Michelin Power Pure Tires (190/55 Rear)
EBC HH Pads
EK MVXZ 520 Black Chain & Driven -1 +2 520 Black Sprocket Kit
Speedo DRD
BMC Race Air Filter
Fren Tubo Stage Tier 3 White Brake Lines
Galfer SBK Front Rotors
Clear Alternatives LED Integrated Tail Light
Pro Grip P5005 Tank Guard
Rizoma Bar Ends
Corbin Front Seat
TMW Gas Cap
FP Racing Shorty Levers
Motofansclub White Repsol Fairings
Marchesini Front & Rear Wheels (17x6 Rear)
Rizoma Barracuda LED Turn Signals
Evo-Tech Steering Stem Nut
Tripage Adjustable Tag Bracket
Tripage Flash Relay
Gilles VCR Rear Sets
Driven D3 White White Limited Edition Grips
Rizoma Axle Sliders
Woodcraft Swing Arm Sliders
Retro Solutions H7 Projects with Audi LEDs
Powder Coated Rear Passenger Pegs
1CarbonTech Carbon Fiber Ram Covers
1CarbonTech Carbon Fiber Side Tank Panels
1CarbonTech Carbon Fiber Exhaust Shield
90 Deg. Valve Stems
HRC Valve Stem Caps
Street Skins Custom Front & Rear Seats
Seat Pins
Rear Res Delete
Lawst-Caws Frame Plugs
Extras included:
Extra set of OEM headlights with HID's installed
Almost 2 complete sets of OEM Fairings
Front and rear stands
Other info:
One of my halo rings on the headlights is burned out, but I have another set of headlight assemblies with HID's installed I'll toss in. The burned out halo doesn't do anything but look nice. The headlights still function without issues.
Also my mirrors have a some scrapes from pushing the bike in the garage and brushing up against the wall (tight fit due to two cars, bike and lawnmower).
No test rides unless cash is in hand.
I don't want to part this bike out or trade.
If interested, please message or or call/text 517-FIVE ZERO FIVE-0573.