Ok Fresh start after the Aus MESS:banghead: I think we can all agree on 2 things: Tires testing what tire testing?? RD fail to get properly FN organized pre race (Have proper meeting with riders to insure ALL are aware) in any event Marquez is putting the race behind him so lets move on :thumbup:
Recap of points leading into this race:
MM wins in Japan with JL 3rd or lower = MM World Champion, Marquez needs a total of 33 points in the last 2 races to win the title. The 33 points is assuming JL wins BOTH Japan and Valencia
__________________
MM comments
Following the drama of Australia, involving changes in race distance, a swap of bikes midway through the race and a miscalculation which led to a black flag, Marquez' quest to be crowned king was put on ice.
However, the calendar offers him another opportunity within seven days. Marquez will need to take eight points more than Jorge Lorenzo, and hope that Pedrosa does not cut the gap between himself and his teammate by nine points or more.
"Obviously I'm disappointed after Phillip Island, but these things can happen," says Marquez philosophically. "The important thing is that once again, we showed we were there for the fight and were competitive. Now we must put it behind us and concentrate on Motegi."
On the challenge of Motegi he adds, "Track conditions can vary quite a lot and we will work hard on the set up in terms of the hard acceleration and braking, which is an area we have improved now. We will work hard from the beginning, following our normal programme and push 100% to recover after Australia."
Marquez, who in the previous round was disqualified due to a team error regarding the then compulsory mid-way bike swap, will be looking to make amends at Honda's home track. With the stop-and-go nature of the Motegi circuit, both he and his teammate Dani Pedrosa will be two of the favourites for victory.
Yet Lorenzo will be buoyed by the fact that the championship is once again in his reach and will no doubt be a force to be reckoned with after his convincing victory at Phillip Island last time out. The Yamaha man knows that nothing but a win will do, making the race with the Hondas yet another exciting prospect. His teammate Valentino Rossi will be looking to make further strides towards the three at the front and aiming to once again challenge for a podium.
News
JL:
Sunday's win at Phillip Island marked the 50
th
time Jorge Lorenzo had celebrated a race victory in the MotoGP™ World Championship. His first had come in Rio a decade earlier, as he clinched a maiden success in the 125 class
AE:
For the second consecutive year, Aleix Espargaro has emerged as the top rider equipped with CRT machinery in MotoGP™. The Power Electronics Aspar rider sealed the feat by finishing 11th at Phillip Island on Sunday.
Brakes
After many riders suffered braking issues in last year's race, due to the hard-braking nature of the track, the technical rules for this weekend have been altered to allow the use of 340mm carbon brake discs – a 20mm increase from the regulation size. Some of the teams, including Ducati, have already carried out tests with the bigger brakes in the Misano test earlier this year.
Japan (Motegi)
Located amongst the vast natural beauty of the northern Kanto district, the twin ring circuit at Motegi in Japan consists of a 1.5 mile oval and a 2.9 mile road course constructed to international standards. Built by Honda as the ultimate test facility in August 1997, the road circuit became home to MotoGP in 2000 whilst the oval is designed to introduce American motorsports culture to the country.
Twin Ring Motegi is a major attraction for motorsports fans all year round as it is the venue for the Honda Collection Hall, a museum which houses an illustrious collection of motorcycle, car and racing machines from throughout the ages. The complex also includes a safety and riding school, dirt track, go-karts, hotel, restaurant, shops and event halls and currently employs some 300 staff.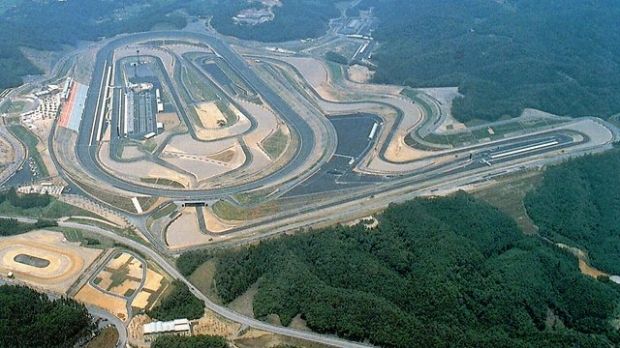 Track Record:
JL 1'44.969 (2012)
Current Points:
1 Marc MARQUEZ Honda SPA 298
2 Jorge LORENZO Yamaha SPA 280
3 Dani PEDROSA Honda SPA 264
4 Valentino ROSSI Yamaha ITA 214
5 Cal CRUTCHLOW Yamaha GBR 179
6 Alvaro BAUTISTA Honda SPA 147
7 Stefan BRADL Honda GER 135
8 Andrea DOVIZIOSO Ducati ITA 127
9 Nicky HAYDEN Ducati USA 111
10 Bradley SMITH Yamaha GBR 99