Finally some interesting pics of the speed sensor cover finished product, looks good, still can't believe how Marc had inadvertently hit Dani's which ultimately cause him to crash. You can see Repsol Honda going all out vs others, Pics and article via PhotoGP
Remember when Marc Marquez ran into the back of teammate Dani Pedrosa at Aragon last season? The collision broke the wheel speed sensor on Pedrosa's bike, which caused a crash when Dani got back on the gas. The crash also ended Dani's hopes for the 2013 title.
It was a freak accident, as those wires have been in the same place for years without there being any problem. But in response to this accident, and to prevent it from happening again, Honda has covered up this bit of sensitive kit with a carbon fibre piece, shown above.
Once again, the workmanship of this piece on the Repsol Honda bikes is typical of HRC. One can only guess how much that piece costs to make. Some teams are still leaving these wires uncovered, while others are protecting them in different ways.
For comparison, here is the same part on the Honda in Karel Abraham's garage during the Valencia test: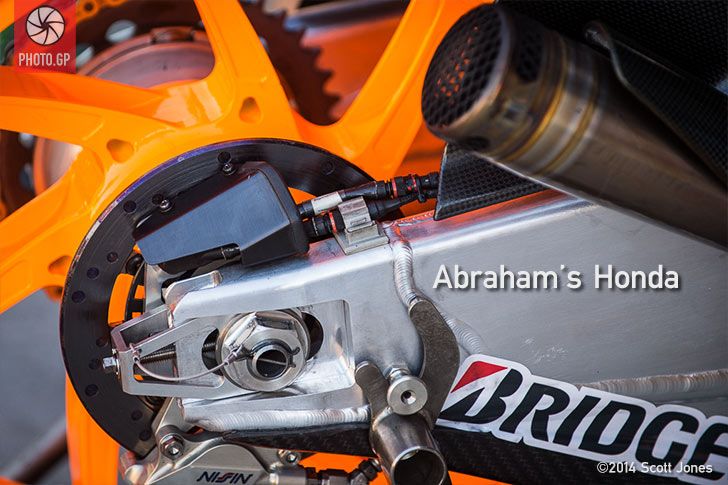 You can see several items of interest in this image, compared to the one above. Just below the exhaust pipe is the carbon fiber rear wheel cover, though the edge is slightly different from the one on the full factory RC213V of Pedrosa. The weld seams of the rear swing arm are different. The mounting screws for the sensor cover are also in a different place, and perhaps this is related to the use of Nissin rather than Brembo brakes on the customer bike.
For one more comparison, Aprilia takes a much different route on their bike as seen at the Valencia test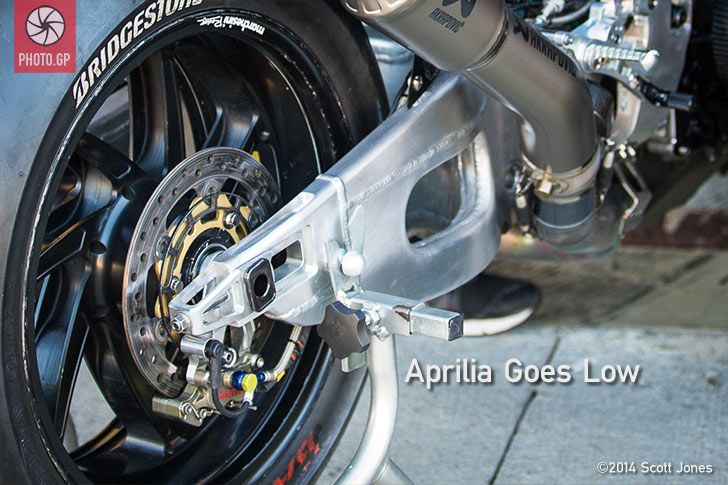 It looks like the wheel speed sensor is built into the brake mount to which the Brembo rear brake attaches. The wire carrying the signal runs along with the brake line inside the swing arm toward the front of the bike.
Still one more I just ran across, here is Suzuki's cover: