ive been with hondas since cars , my first car was a honda prelude i didnt know jack **** about cars so it was super riced out hey i was 16, second car i got was a civic hatchback 1990 i did a motor swap from a civic ex and i converted the car to obd1 so i was running a sohc vtec with a p28 pretty decent pull.
i then bought (and still have) my 2001 integra gsr, i didnt do nothing to it but lower it...my friend taught me how to ride on what else? a honda f2...i was HOOKED decided to stop dumping/wasting money into trying to make a front wheel drive 4cylinder car fast...and sold my civic hatchback to get my first bike a 99 cbr f4...after learning on that...i got my currenet bike 2006 600rr
so i been honda all my life!
heres some pictures u can see my hatchback in the background with my gsr,
my first car from when i was 16-21ish it was clean but it was automatic i miss the car alot
then i got the hatchback after i sold the prelude , this car was all stock with the stock 1.5 DUAL POINT FUEL INJECTION 4speed manual trans when i was done with it, it had a 1.6 sohc vtec, 5speed si trans and obd1 conversion, skunk2 coilovers with tockico shocks and little interior upgrades.
sold the hatch got my first bike. also pics of my gsr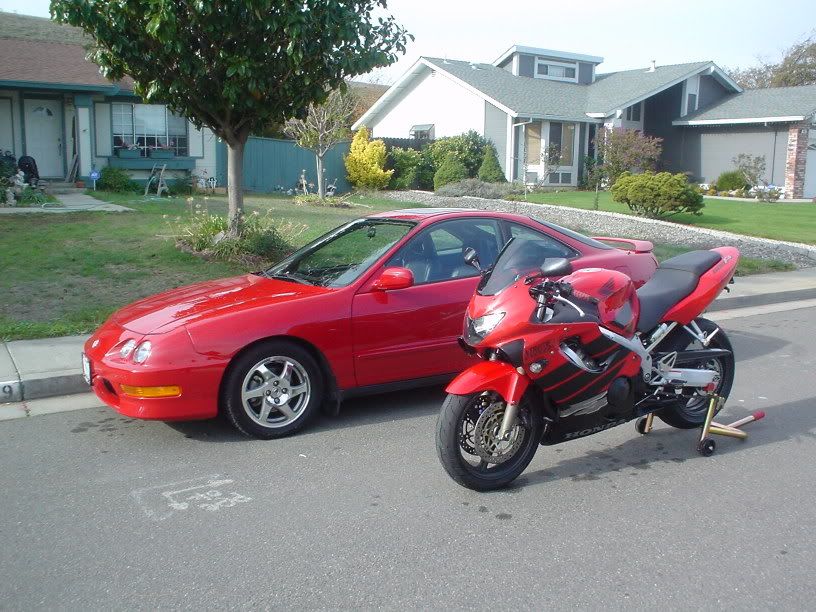 sold the bike now got my current ride still have the gsr. miss the other hondas though.