hey guys, i've had a fair few PM's from people asking me for a mod list, so i thought i'd post one, as well as new pics of a clean bike with my new pazzo.
first off the mod list, warning it is quite long
Carbon Fibre front hugger
Carbon Fibre rear hugger
Carbon Fibre yoke cover
Carbon Fibre heatshield
Carbon Fibre mirrors
Carbon Fibre air intakes
Carbon Fibre frame inserts
Carbon Fibre lowers/ belly pan
Carbon Fibre fender eliminator/plate holder
Carbon Fibre/kevlar lined clutch and alternator covers (
www.bikejohnny.com
)
Carbon Fibre front sprocket cover (all other carbon from
www.carbontek.com
)
Zero Gravity clear DB screen with oem honda inlay sticker, to keep the stock look
Gregs clear LED flush mount front indicators
kellerman LED billet rear indicators (
www.kellermann-online.com
)
Harris Toe guard (
www.harrisperformance.com
)
R&G frame protectors
R&G fork protectors
R&G bar ends
R&G swingarm bobbins (all R&G from
www.rg-racing.com
)
Renthal soft grips
Pazzo clutch lever, Blk with silver adjuster
Brembo 19X20 radial Master Cylinder
Brembo resevoir
HRC resevoir cover
Hell Braided lines all round
Braking wavey discs all round
Extreme racing quick action race throttle (
www.ExtremeBykeSportZ.co.uk
)
Re-wired Fireblade starter switch gear, due to new throttle
Datatool Gear indicator
Datatolol System 3 alarm
Honda OEM seat Cowl
Sparco Gas Cap Black (
www.demon-tweeks.co.uk
)
Alcantara riders Seat
WP Steering Damper and Fitting Kit
WP Fork Internals
WP competition Rear Shock (
www.wpsuspension.com
or
www.reactivesuspension.com
)
Dynojet PCIII
Dynojet Quickshifter
Gilles Rearsets Black with Carbon fibre heel plates
520 conversion
Afam light wieght Front sprocket
Renthal Lightweight Rear Sprocket
Afam Gold X-ring Racing Chain
Akrapovic HRC spec EVO titanium Full system with carbon can 60mm port, system is wrap due to the pipe bore, other wise fairing get abit hot!
Marchesini Forged Magnesium wheels (
www.crescent-suzuki.com
)
BMC air filter
Engine has been BluePrinted by HM Racing (
www.hmracing.co.uk
)
Billet Lower Frame Plugs
R6 rubber frame plugs for upper mounts
Harris billet oil cap, blk
Carbon lorraine pads all round
last but not least, titanium bolts pretty much every where you can imagine including axle bolts (
www.tastynuts.com
)
now heres the pics of the washed bike and my new lever, its better then my old crg, whern i come to washing the bike you don't get the water built up in the machining
if you have any questions or want any pics let me know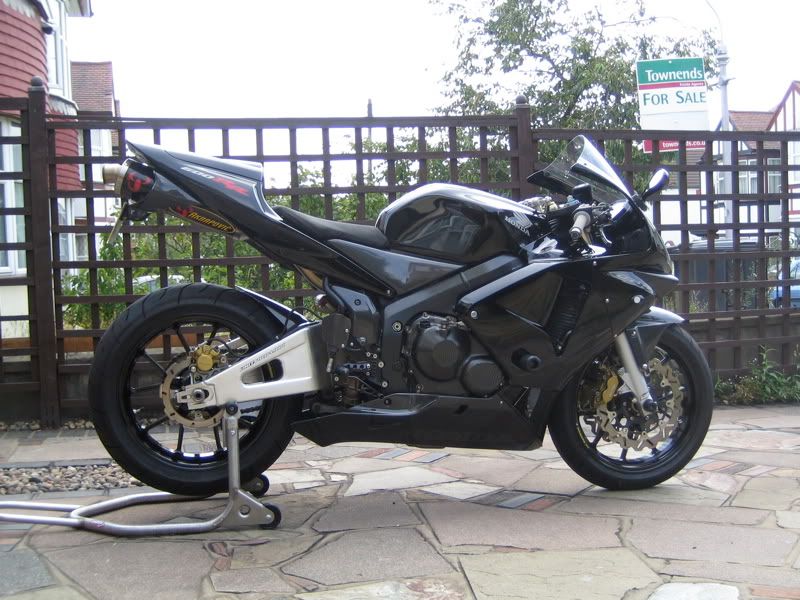 couple of arty pics
and my new lever
enjoy
Paul
P.S excuse to chicken strips on the tyres, there new and just running them in.