So I installed my alarm on my 06 double r so far I love it perimeter sensor works great. Anti-hijack is very effective. All and all the alarm is a great system.
Like every other DIY you are doing this at your own risk
600rr.net or myself will not be responsible for any damages done to your bike.
So lets get started
Tools:
- Allen/Hex keys or socket set
- Dikes/Cutters
- Wire strippers
- Philips screwdriver
- Heat shrink/t taps + female connectors
- Scorpio connector kit
- Zip ties
- Last but not least a place that is very comfortable so you can take your time .
Steps:
*pull off your front and rear seat
*pull off your rear tail section
*install connect harness (Plate light will have it's own connector but turn signls can connect either way)
*check your turn signals if they are not flashing the right way swap wires
*run battery wire to battery (your alarm should chirp 2 times)
*run rfid antenna (I placed mine on the very back of the tail)
*run the antenna (I ran mine to the bracket that holds the stop light connector)
*run the perimeter sensor (I placed mine beside the battery)
*run anti-hijack module (I tucked mine under the driver seat) the 2 wires will be connected to the fuel pump relay *solid brown wire* make sure it is a safe and secure connection (this is why I use solder and heat shrink
*clean up wiring with zip ties and mount module using provided velcro
*test your alarm (tilt, hit, and sit on your bike)
*testing anti-hijack alarm start bike without remote anywhere insight. (alarm will go off and your bike will start but it will die out.
*put your tail and seats back on
Now go riding :cruising:
Pictures: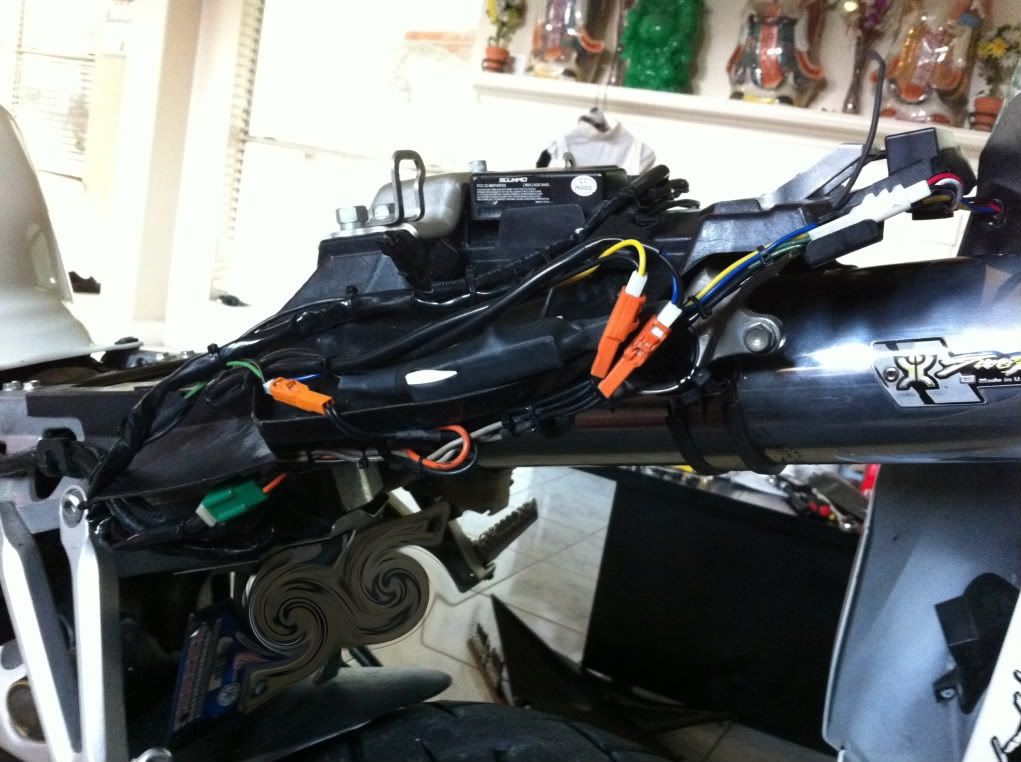 I still got room for my disk lock lol!!:banger::banger: