Discussion Starter
•
#1
•
Well this past weekend was simply awesome, to say the least! On saturday 5/16 I left the Atlanta area and headed northeast.... one of the CBR forums I'm on had it's first official 'meeting', and it went off without a hitch. We had a pretty good turnout... I believe I counted 15 bikes and one guy in his car, which isn't bad for a first meeting of a forum that's only 6 months old. We all had an awesome time, and plan on making this an annual event for memorial day weekend every year due to the great success of this meet. Might also do something in the fall too!
Anyways... on with the pics
Saturday morning, bike is all packed and ready to roll. I had initially wanted to leave friday night and get a headstart on saturday, buuuuutt of course that never happens. Had too much stuff to finish up friday night, so I figured I'd leave real early saturday morning... thinking 5 or 6am-ish. Well after finally getting to sleep at 4am fri night, the early thing didn't happen either, haha. I woke up at 9am, and pulled out of the driveway by 9:30. Way later than I had planned on, but not tooo bad. I filled up with gas and had a quick breakfast at McD's, then hit the road. Destination: my buddy Jasons house in southern Maryland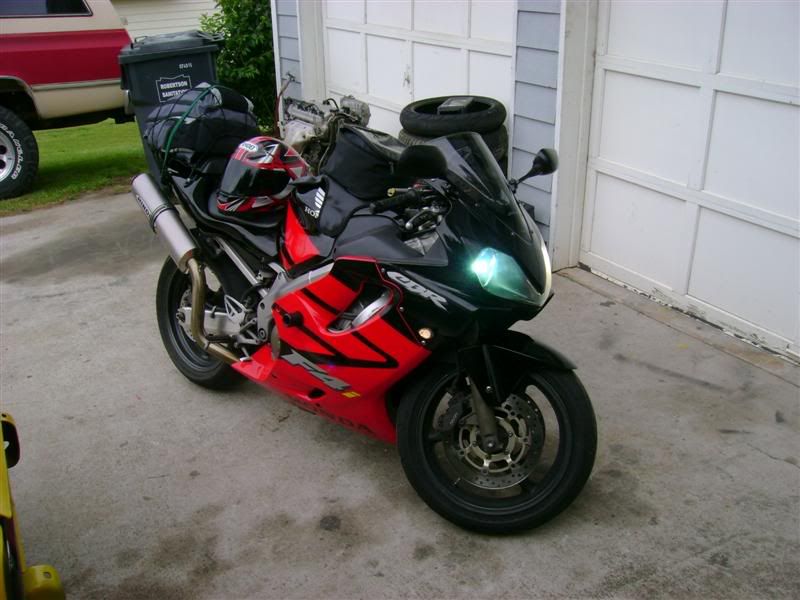 Always a beginning odo shot before every trip, hehe
I didn't stop to take many pics on the way out there because I was trying to make good time, having left way later than planned. I really wanted to get out to Maryland before dark, so I could have some time to spend with Jason and go do a local ride or something
Shortly after getting into North Carolina my stomach was growling. No time for a sit down lunch, so the lunch of champions had to do!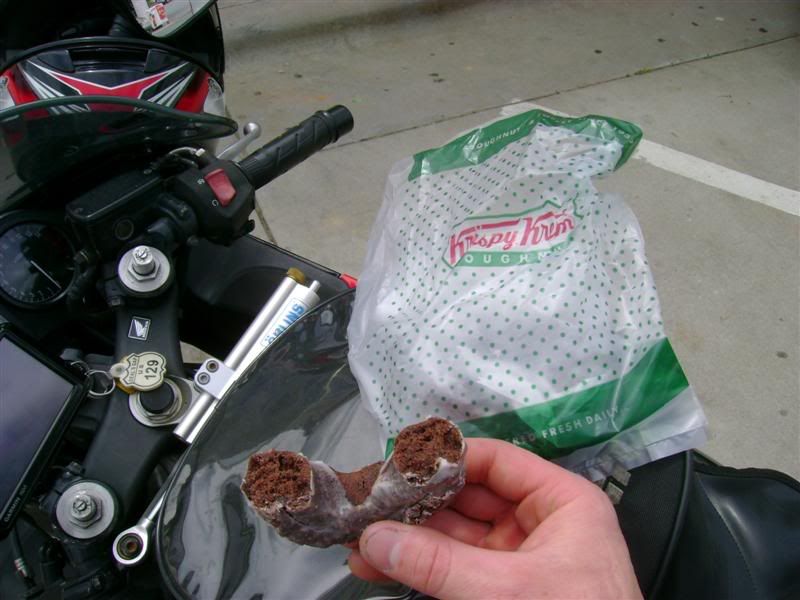 I must say, they do have very nice rest areas in North Carolina! Definitely alot nicer than the ones along I-10 in the middle of the desert in New Mexico, hahah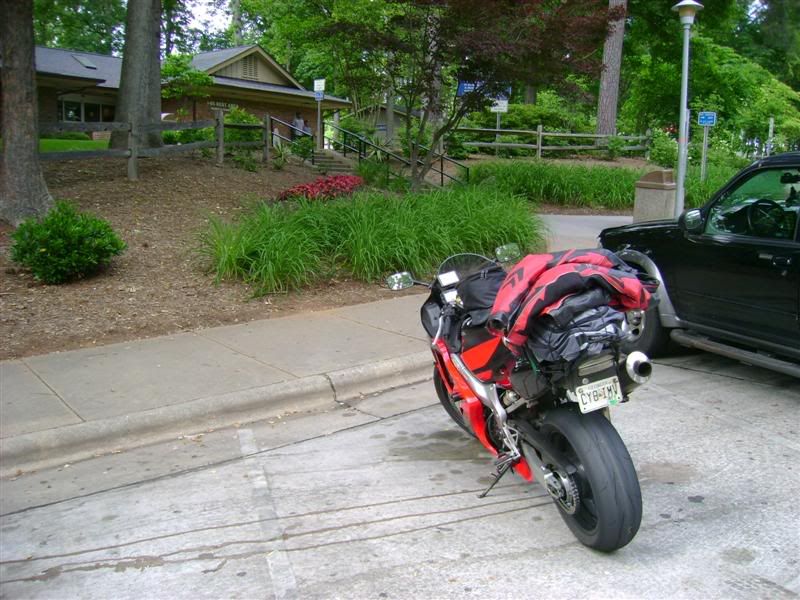 I crossed the Gov Harry Nice Memorial Bridge going over the Potomac River from Virginia into Maryland just before 8:00.... woohoo! This was my first time ever visiting Maryland, so I got to add it to my list as my 18th state visited on my bike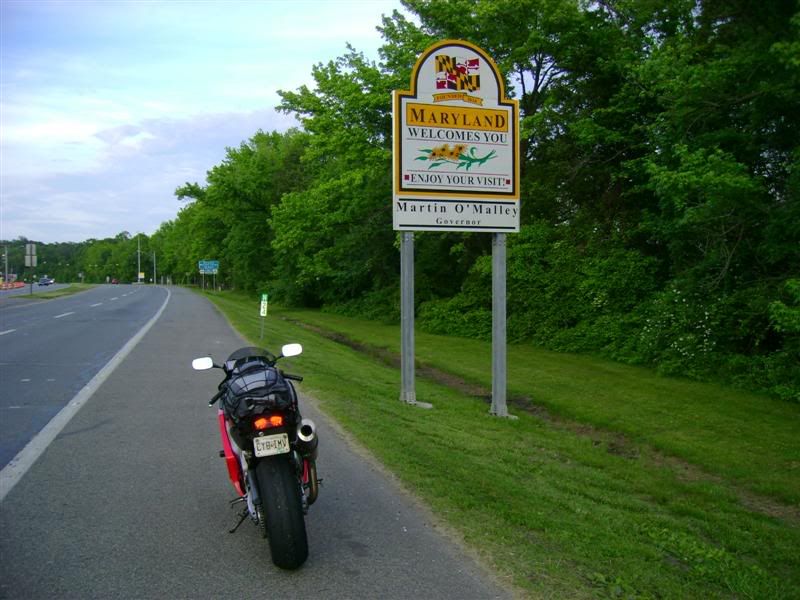 As I made my way over to Jasons house, I was looking at my GPS and noticed something wasn't quite right. Keep in mind I reset the trip odometer (bottom set of numbers in the ovals) when I left my house, and it was only a 600 mile trip. I think my GPS is a little confused! Note the total miles, total moving time, and average speed. Yea... somebody figure that one out! haha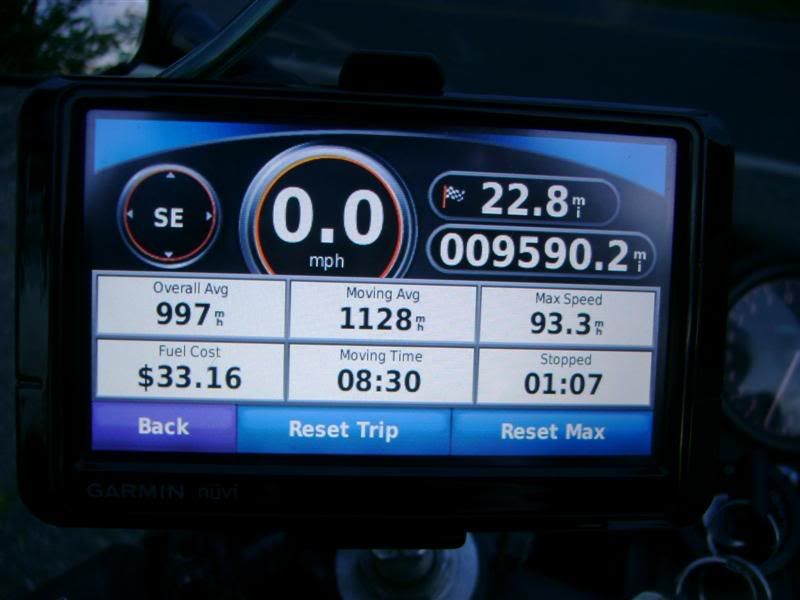 Also notice the kick ass fuel economy!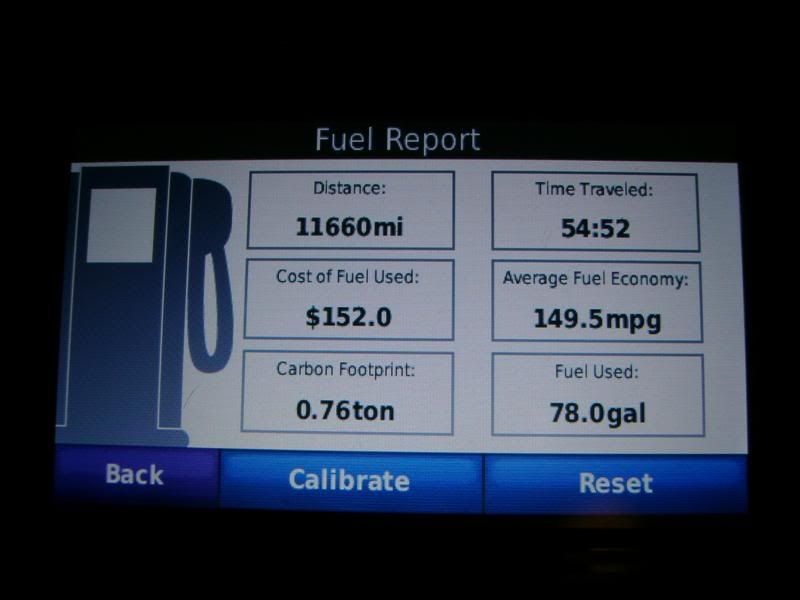 I made it to Jasons house safely by about 8:30, where I met him and another forum member, Darren. His girlfriend Dominique wasn't home from work yet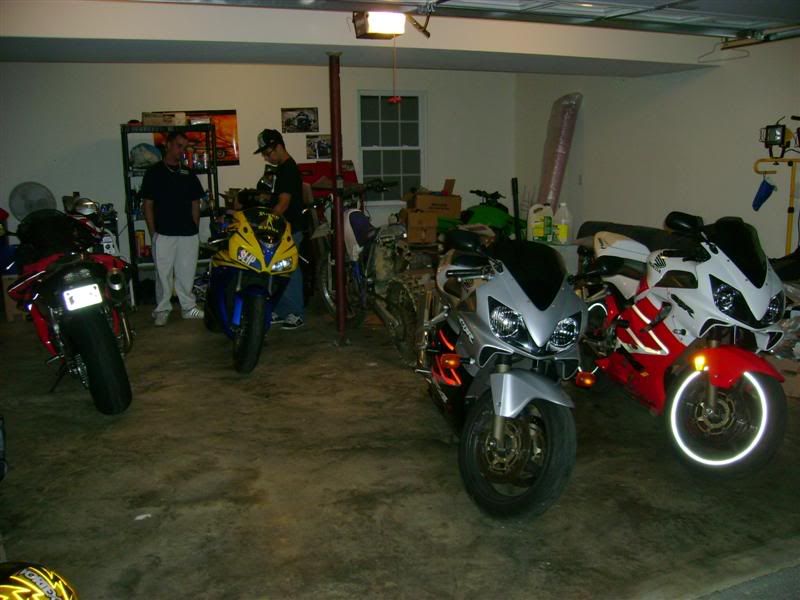 I was freakin starving by this point, having eaten only McD's for breakfast and 2 donuts for lunch, lol. So after chatting for a few minutes and getting to know each other, we all headed out to get something to eat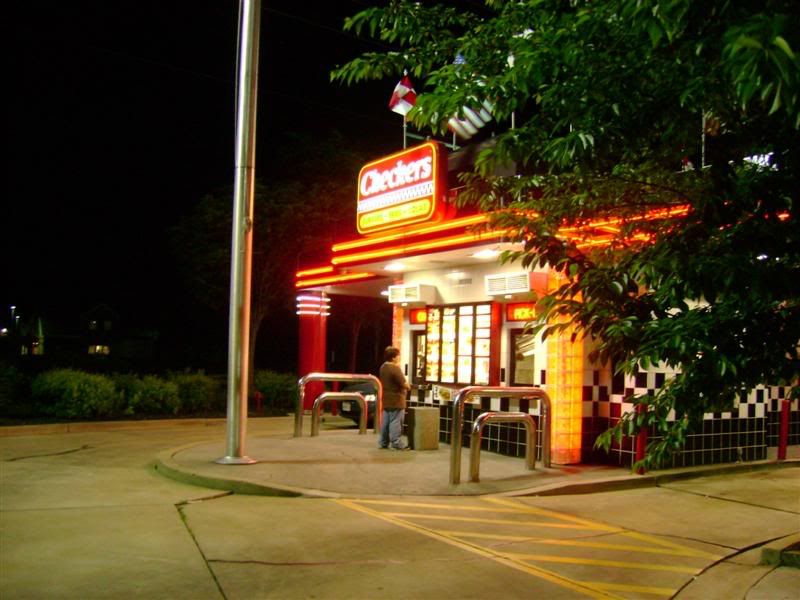 After we got done eating, we went out for a little local ride down to Solomons Island. There was a concert going on so we couldn't get to where we wanted to, so we just hung out for awhile and BS'd. Oh yea and that van was going pretty fast! hahah