Discussion Starter
·
#1
·
As much as it pains me to write this, the police said it would be a good idea...
My motorcycle was stolen on Friday, August 29th at 5:35 in the morning. It was taken out of the underground parking garage at Louisiana Oaks in St. Louis Park, Minnesota where I live. Someone got in and ripped off the lockset/ignition and hot-wired it and drove off. The only surveillance footage the apartment complex has is of the person (guessing male by the height on the bike) driving off on the bike through the garage door. They were wearing a black hooded sweatshirt with the hood up, it had white writing across the back of the sweatshirt in 2 words but the camera wasn't clear enough to make out what it said. They were also wearing jeans and tennis shoes and had a dark color bag over their right shoulder. Now, about the bike...
It's a 2007 Honda CBR 600RR. It had just over 20,000 miles on it and was mostly white in color.
VIN is "JH2PC40037M011016"
LICENSE PLATE "53338MG".
I listed a full modification list below, but some of the most noticeable differences/mods are as follows:
- custom paint job (it's not the stock 07 pearl white paint scheme and is a one of a kind scheme)
- custom headlights (had audi LEDs with a halo around the HID projector, if the headlights are off, the inner projector glows red)
- rear subframe and heat sheild were painted black as well as the passenger pegs powder coated black
- rear passenger pegs had LEDs in them (2 strips of 10 facing the rear with running/break as the inside strip and the turn indicator amber were the outside strip as well as 5 facing the side that were also turn indicator and amber
- Akrapovic exhaust with a TST license plate mount putting the license plate up under the exhaust
- black Sato rearsets with a rear brake reservoir delete mounting the rear brake reservoir right behind the right rear set
If you see this bike or have any information on it, please call the St. Louis Park Police department in Minnesota immediately.
Here is the full mod list:
- Akrapovic Exhaust
- Vortex frame sliders
- Proton flushmount blinkers
- Tripage Pro Intergrated Taillight
- Tripage passenger peg LED install and black powder coating
- Tripage Cruise control (throttle lock on right side)
- TST Industries License Plate mount and lights
- The2Wheels brake and clutch levers (black with red adjusters)
- Corbin Seat (black)
- Vortex front sprocket
- Vortex rear sprocket (black)
- DID 520 Chain (black
- Galfor front Brake Pads
- Galfor rear Brake Pads
- Galfor Steal Braided front brake lines (clear smoked coating with silver banjo)
- Galfor Steal Braided rear brake lines (clear smoked coating with silver banjo)
- Power Comander V
- Sato Rearsets
- Custom Headlights from KT (55w 6000k HID projector lights that had audi LEDs with a halo around the HID projector, if the headlights are off, the inner projector glows red)
- Pair Valve block off plates
- Rear reservoir delete with Brembo Rear Brake Reservoir mounted by the right rearset
- Renthal Dual Compound grips (grey)
- K&N Air Filter
- Cox Racing Radiator Guard (black)
- Puig Racing windscreen (dark smoked)
- Tech Spec C3 Tank grip pads (black)
- Probolt Fairing and windscreen kit (black)
- Tripage 3rd eye LED upgrade
- Superbike Custom Fairing Kit (mostly white with black stripe down the middle and some stickers deleted - see pictures)
The bike the day I got it: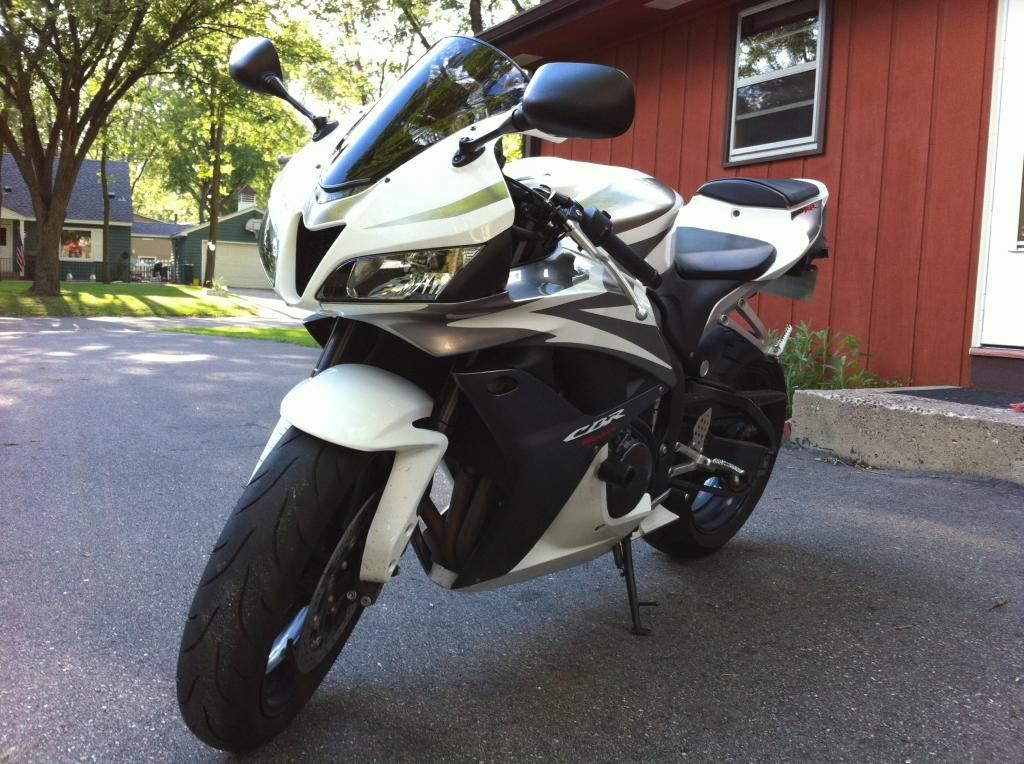 After some work from tripage and some blacking out of some stuff:
A round of goodies to put on the bike:
Corbin seat added and my new helmet prior to the install of the rest of the parts from the previous pic: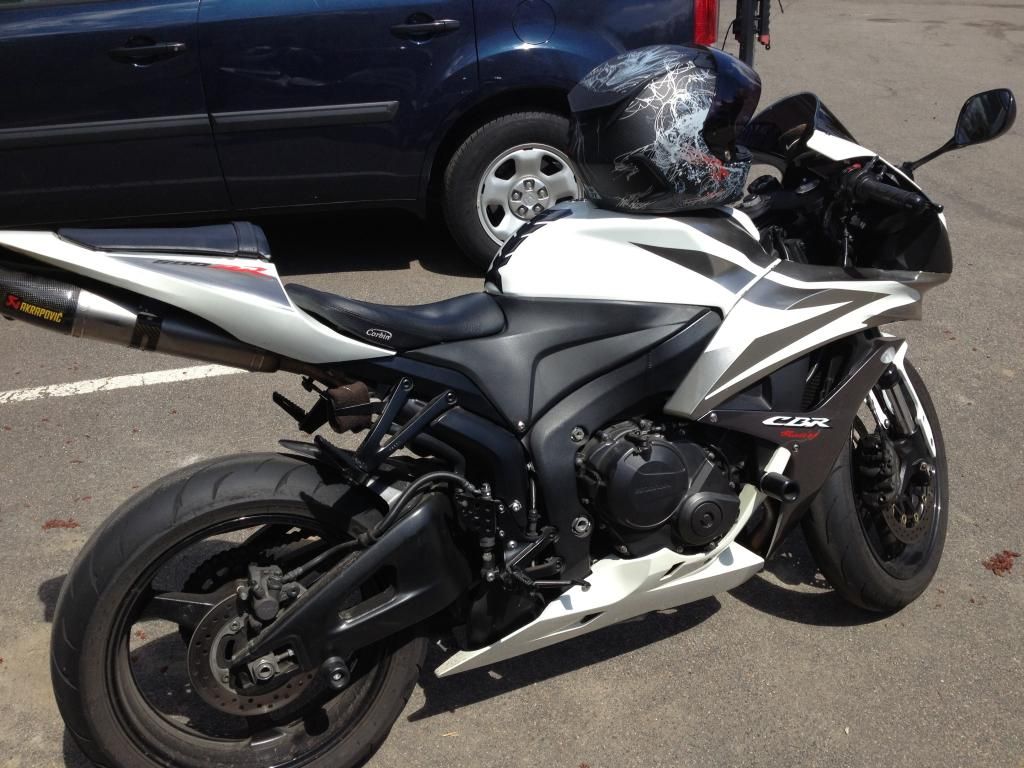 And the install of some of the parts plus my favorite mod, my headlights: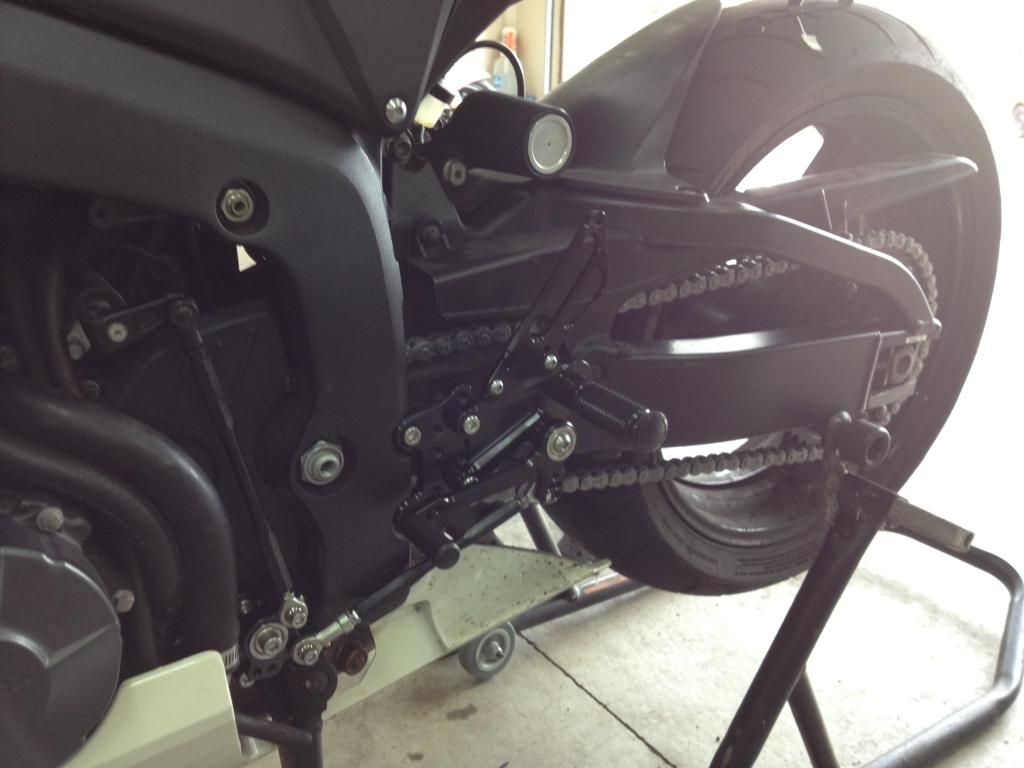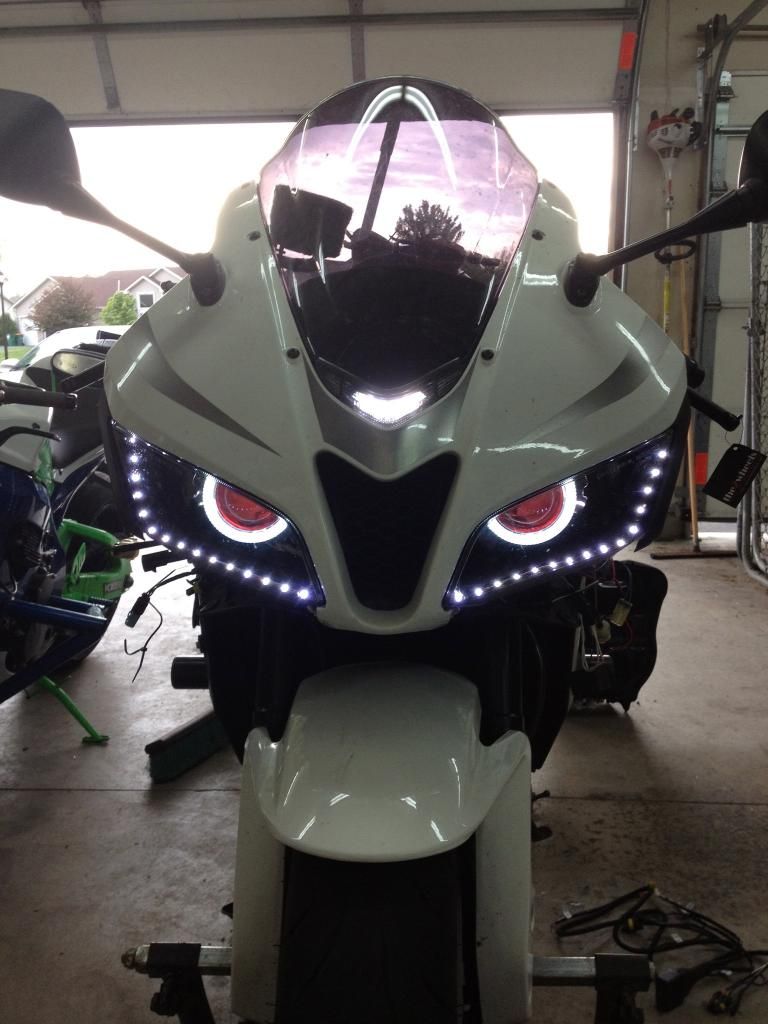 pics continued...