Well this weekend (5/15-17) I went up to Franklin, NC to meet up with a group from one of the VFR forums I'm on. Every year they have a big memorial ride for a member from that forum that was killed back in 2003 while he was visiting the North Carolina and Tennessee mountains from Texas (another forum member was with him when he was killed... he's the one that puts it all together every year)... it's grown to be quite a large annual event. The fallen riders screenname was "texasmac", so the annual event is simply referred to as "T-mac".
Met up with my friend Kevin up there friday night (we both live in the Atlanta area and hang out/ride quite a bit), spent all day saturday riding, hung out until 3am BS'ing sat night, then came home sunday afternoon after watching the MotoGP race on TV. Lots of great times, awesome riding, and of course meeting new people and being able to put a face to a name
Anyways... on with the pics. I didn't get up to Franklin until kinda late friday night (10:30 pm), so not any pics of the ride up (it was pouring down rain for half the trip anyways).
Saturday morning.... Kevin and I were both getting frusterated cuz everybody was leaving early due to a threat of rain, so we said screw it and we went out for a ride just the 2 of us. It was about 10am but still nice and foggy in the mountains
So after carving up some of North Carolinas finest twisties, we end up here
**cue birds singing and rays of sunshine poking through the clouds**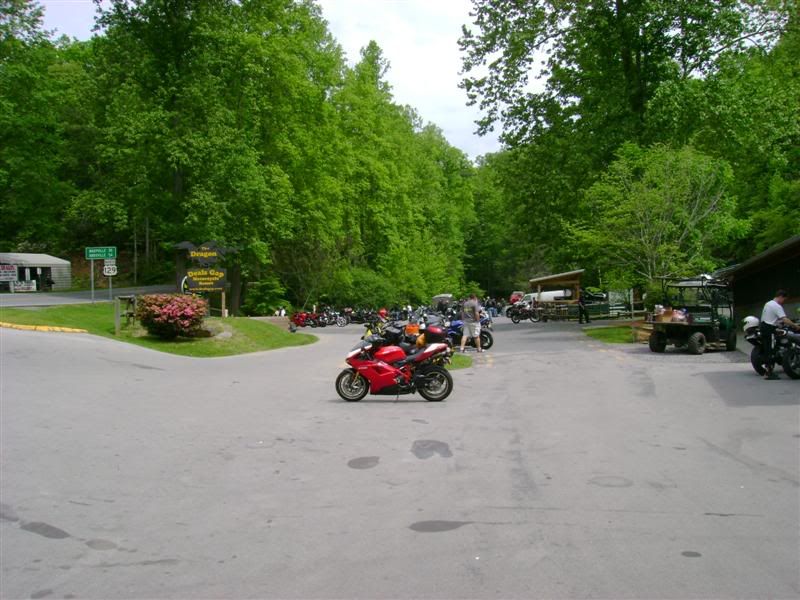 We ended up running into one of our other groups there (we actually passed a bunch of them on the way there, they pulled in behind us)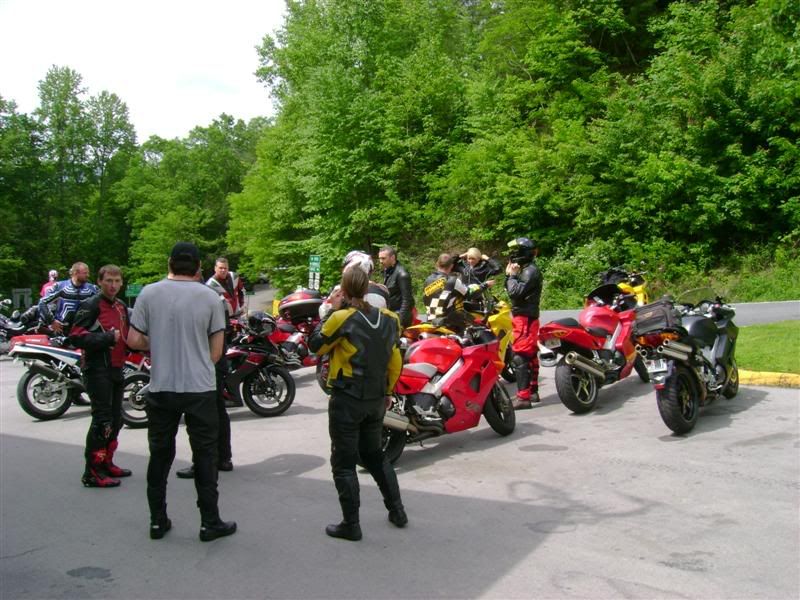 Anyways after chatting with the other group for a bit, we decided to join together since it was a group event after all, and go for a ride. We decided to head over to the Cherohala Skyway and into Tellico Plains, Tennessee. We stopped at one of the pull-offs along the way for a short break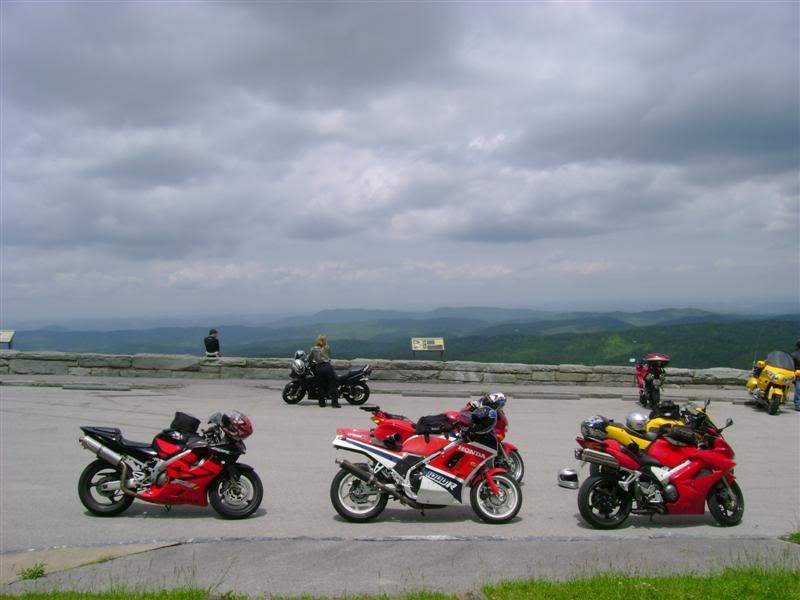 The rest of the group... minus me of course since I'm taking the pics. Such an awesome view from up here!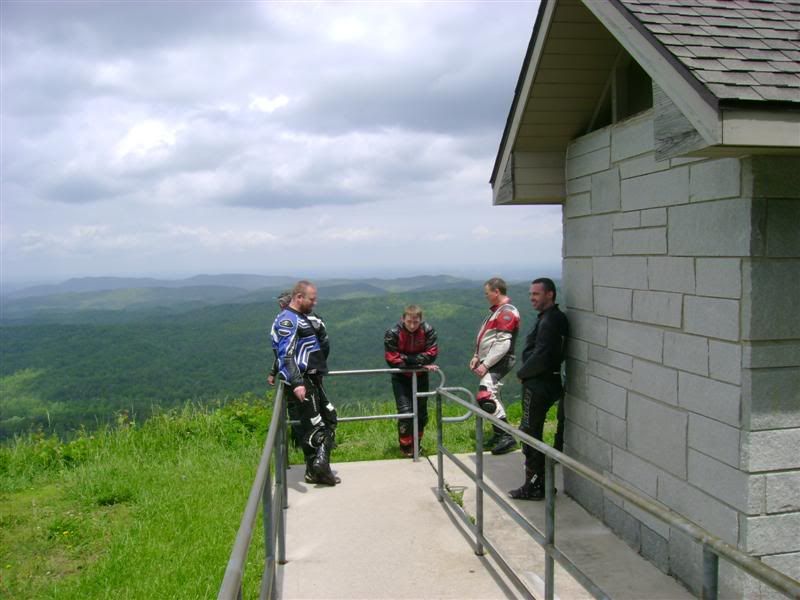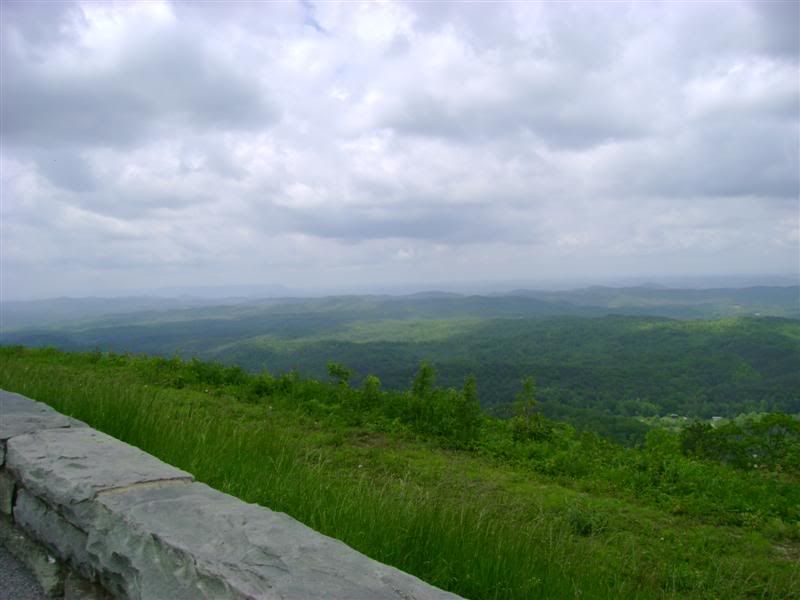 As we were standing there relaxing, we see yet another one of our groups go by on the skyway, so we decide to to chase them down, lol. We suit up and head out, got probably 5 minutes down the road and see the whole group pulled over to the side of the road. I've seen this before.. it's never good!! We get a little closer and I see one of our members pushing a blue Harley through the grass on the side of the road...ohhhhhh boy! So we all pull over to see what's going on and help out. It was an older guy that I guess ran off the road in a turn and went down. Didn't have any gear on, just a lil skull cap, so his left arm was all rashed up and he took a good bump to the head cuz he couldn't remember anything, including his own phone #. Somebody in the group had a first aid kit, so we got him all bandaged up. His front tire was slashed from the crash (or maybe it blew out beforehand causing the crash... who knows)
After that we continued on our way.... by this point we were all getting hungry. So our next stop... foodage! Stopped in Tellico Plains, Tennessee for some lunch and a break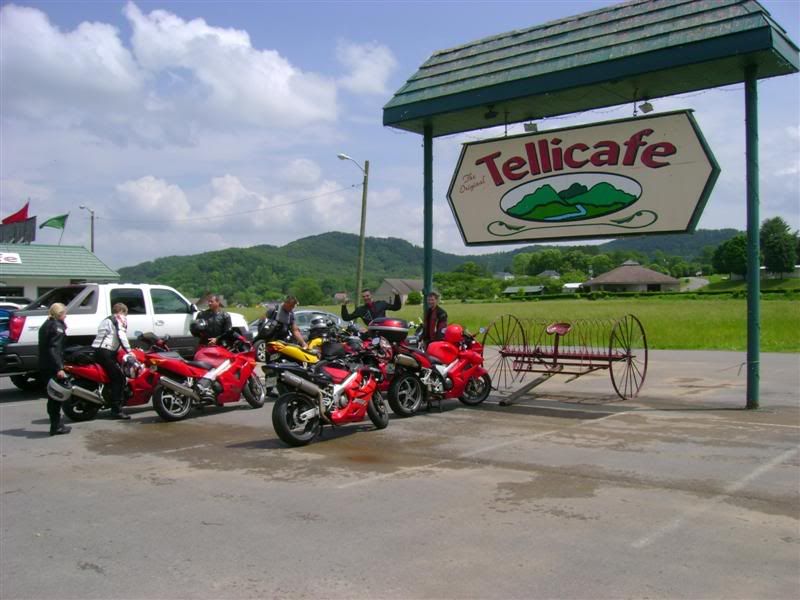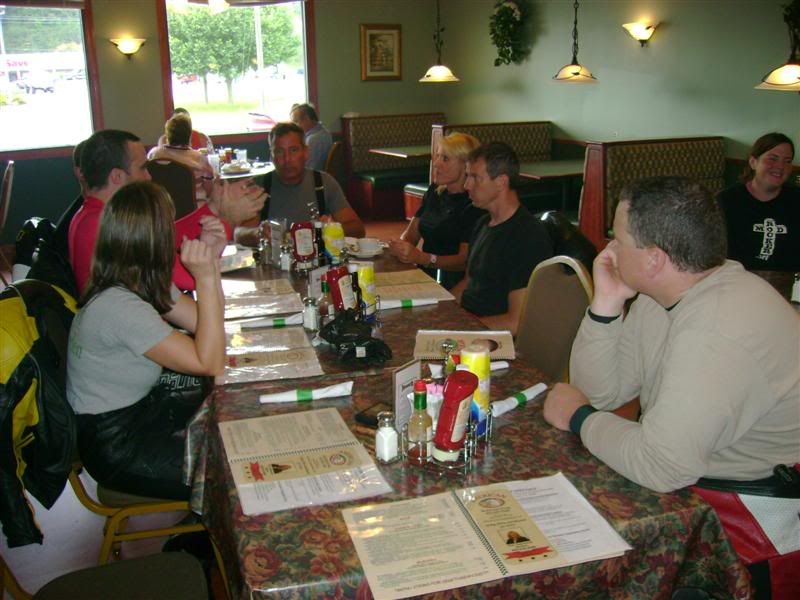 I must say, my BBQ pulled pork sammich was mighty tasty!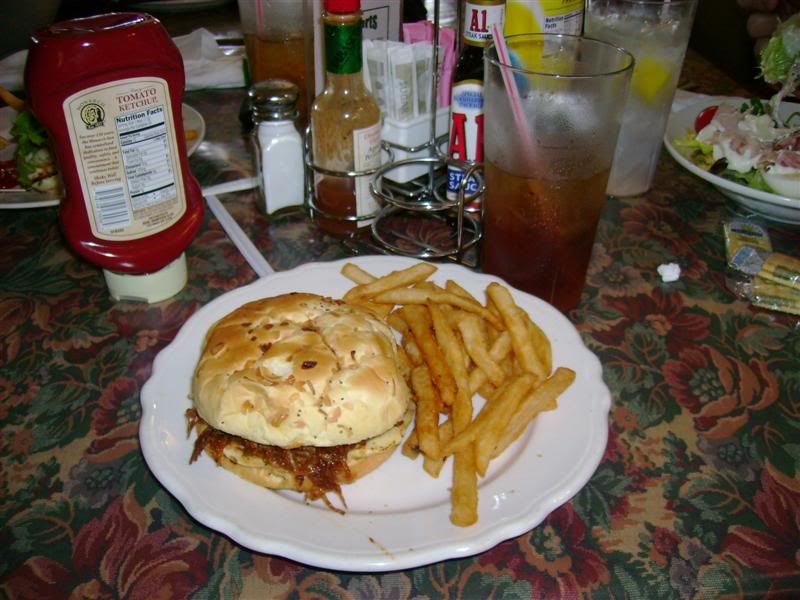 Ok kinda funny story.... I dropped my motel key in the parking lot at the Deals Gap store when we were there earlier in the day, so we ended up having to come back by again later in the day after eating lunch to try and find it. Luckily somebody turned it in so I did get my key back. We hung out there for a couple minutes admiring all the parts hanging from the "Tree of Shame", then started walking back to the bikes to leave, when I hear somebody yell "Jared!". It didn't really register at first, then I hear again "Jared!". So I look up and who do I see?? It's Kelly and Casey, both part of my original 'crew' from south Florida from when I lived down there several years ago. Them and some others from the south Florida crew had just gotten there a couple hours earlier. They were the only ones that stopped, then the rest of them came down the hill but kept going back to their hotel without stopping to chat. Talked to them for a few mins they they went on their way. Really funny how the timing worked out like that though! Oddly enough, Kelly had been trying to meet up with someone that was in our VFR group, and we had just had lunch with not even an hour prior... small world!
But anyways... we're back again