If you enjoy this thread please rate the thread in the upper right corner of your screen!
Contents:
Day 1
- Indianapolis, Indiana to Springfield, Missouri (Right Here)
Day 2
-
Springfield, Missouri to Shamrock, Texas
Day 3
-
Shamrock, Texas to Albuquerque, New Mexico
Day 4
-
Albuquerque, New Mexico to Flagstaff, Arizona
Day 5
-
Flagstaff, Arizona to Williams, Arizona
Day 6
-
Train Ride to the Grand Canyon
Day 7
-
Pink Jeep Tour
Day 8
-
Rafting the Colorado river from Glen Canyon dam
Day 9
-
Visiting the Hoover Dam
Day 10
-
Williams, Arizona to Cedar City, Utah
Day 1 - June 16th
Indianapolis to Springfield, Missouri
Note 1:I am not a photographer! I often come across things when I'm on my motorcycle journeys that I wish I could photograph, but never have a camera handy. Let's not forget that you just can't reach over to the glove box and pull a camera out (Hey, it's not a car). I decided to try to tether a camera to myself and see what happens. What I came up with is a strap around the neck with the camera attached.
Note 2:I am not a photographer! With a helmet and traffic it is impossible to "aim". All pics taken while on the bike are really "point and shoot"!
Note 3:I am not a photographer! Do we see a pattern?
A little background...
My mother-in-law began planning a trip to the Grand Canyon back in 2008. The plan was to spend a week at/near the Grand Canyon with 7 days or so of travel (it's a loooong way!). She invited us and suggested we could ride our motorcycles while they drove their car. We could meet each evening at a hotel.
Flash forward 2 years...
Well, the in-laws decided to purchase a motorhome... Hmmm. That's awesome! No hotels. No need to carry anything on the bikes. Built-in sleeping quarters. What more could we ask for?
The Equipment...
Here is my wife's Yamaha FZ6R. The reason she chose this bike? Because it had pink graphics! Yup, that is the only reason. Notice the added pink details, including "Barbie" on the rear. Let's just say that "someone" has a pink problem!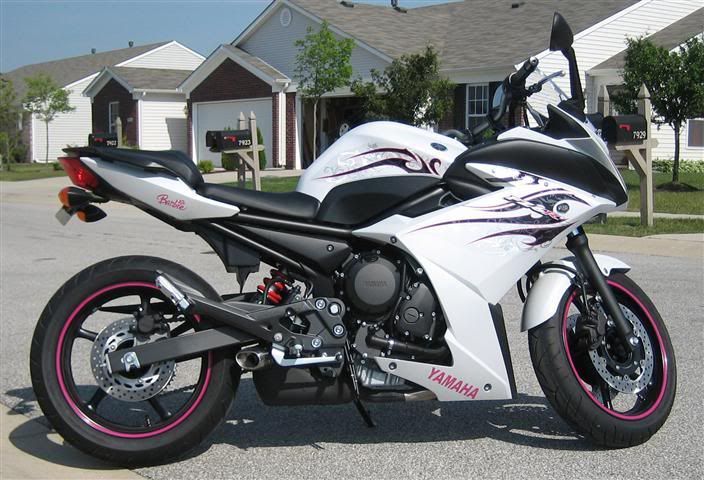 Here is my Honda CBR600. Pretty plain with a patriotic red/white/blue paint scheme. The white and (very dark) blue have a beautiful metallic finish that is gorgeous in person!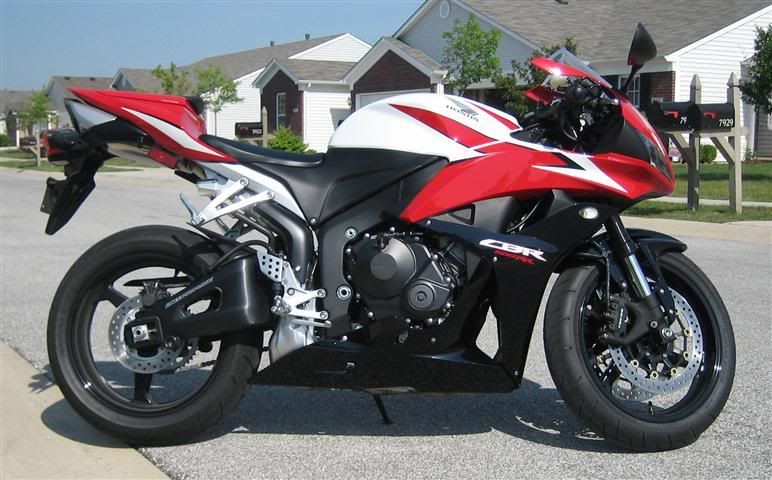 I know. Not exactly what you expected, but I really like curvy roads! Not as bad as you'd expect either. We've done a couple 1000 mile in 24hr
saddle sores
.
So we have 2 neat bikes and a full fledged chase vehicle!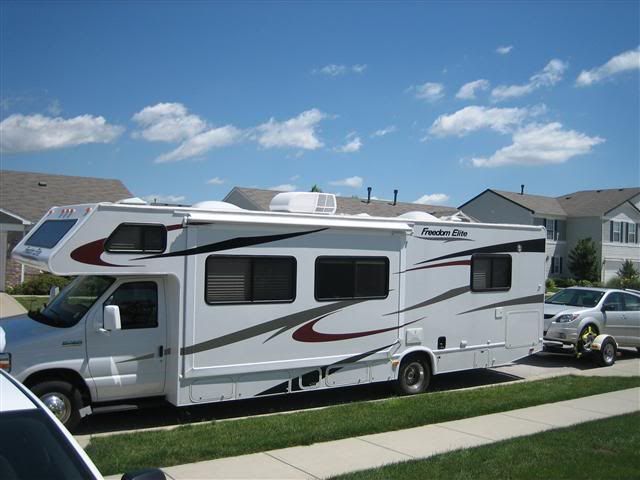 And We're off!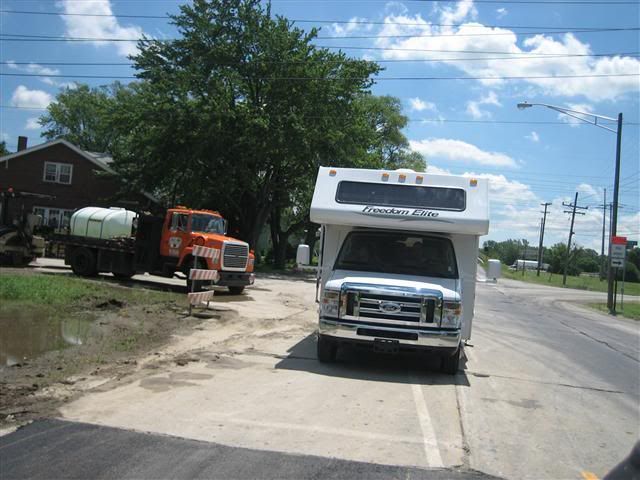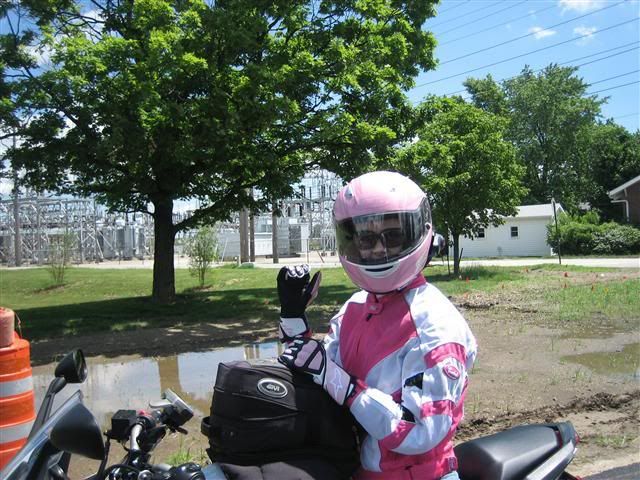 BTW, you will see more pics of my beautiful wife along the way - I'm the one with the camera!
Not much detail heading through Indiana and Illinois, sorry but it seems boring to me as I've seen it before. We also started about 3 hours later than anticipated.
I love clouds. There are some amazing scenes painted right above us every day. I miss most of them in the city, but spend a lot of time looking up when I'm out in the country!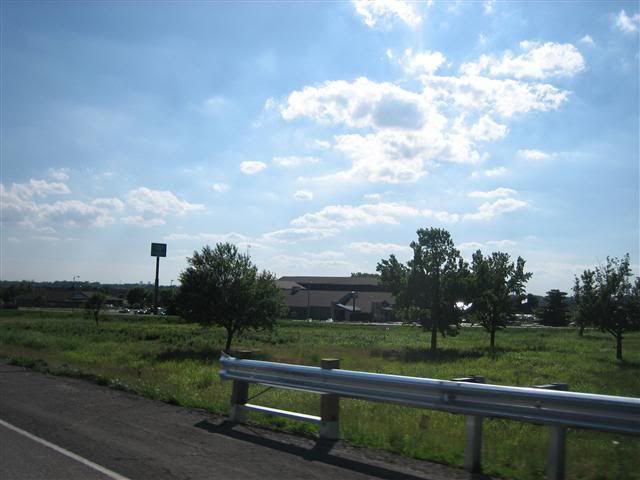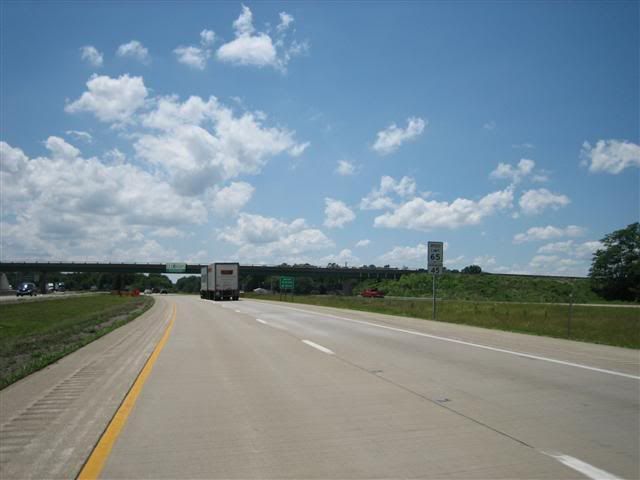 Looks like someone is having a good time...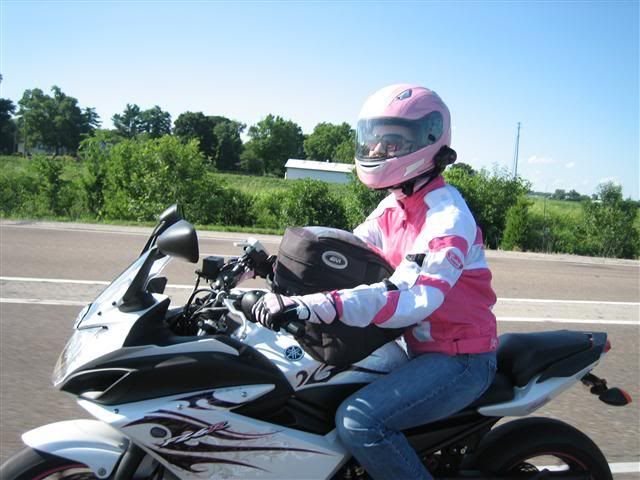 Crossing into St. Louis Missouri I tried to get a good picture of the Arch, but