Discussion Starter
•
#1
•
Yesterday I got done with a ride and noticed a little shiny thread sticking out right where I've circled. I then lightly shook the plastic around this area and out popped a bolt!! I have no idea where it came from. I'm sure the answer here is "it could be one of many bolts", but maybe there is only one or two you guys know of that fit the description... Thanks in advance if anyone has an idea, I'm currently scanning through the body section of the manual. This is an '04.
The bolt is stainless, 19mm long and 6mm in diameter, there is NO threadlock used, standard bolt head (not hex head or phillips/slot head).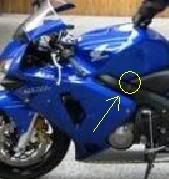 Note: the bolt fell from this opening, so it should be from somewhere close.