Join Date: Jun 2009
Posts: 5
Thanks: 0
Thanked 0 Times in 0 Posts
Feedback Score: 0 reviews
Questions regarding track use and the 600RR
---
Hello everyone.

I new to these forums so I hope I have posted this in the right place.

I have a specific goal to start taking performance-riding courses and to start participating in track days and other events. Iím exploring building out a 600rr for this purpose.

My initial thinking was to find a used mechanically sound late model rr that can be modified so I have a number of questions:

Is there anything specific I need to watch out for buying a used bike specifically if the bike has been down?

How difficult is it to work on these electronic fuel injection systems? I assume there are some special tools required.

Any other known issues with the electronics out side of the engine management?

Fuel delivery problems, breaks, is the Honda ABS system worth it? I have BMW ABS and itís saved my ass more than once on the street.

Any thing unusual or gotchas out there for prepping the bike for track use?

Any thing I missed? :icon_stud

Thanks to everyone in advance for your advice / opinions.

RJ
Knee Dragger
Join Date: Mar 2008
Location: Castro Valley,CA
Posts: 247
Thanks: 1
Thanked 0 Times in 0 Posts
Feedback Score: 2 reviews
Riding the 07-08 model completly stock on the track will put a big smile on your face that will last for days.

If your looking for a downed bike, look for the engine cases being cracked,broken, as was the case with 2 bikes that I looked at that where laid down. Both of them had oil on the inside of fairings, and one I couldnt see the oil level in the window on one of them. Bent frame,swingarm forks would be another concern for me. Luckily alot of bikes just have rashed up fairings which your going to replace with TD fairings anyway.

I never heard of any electrical issues and dont know why you would have to work on the feul injection system. Other than adding a Power commander or Badazz fuel management system which takes some set-up.

Removing all non-essentials, replacing the coolant with water-wetter, fitting on a set of TD fairings, dialing in your suspension and you will be well on your way. ABS vs. non-ABS model is your call, but I would only consider it on a street bike. Your going to carry an extra 18 lbs. around on a controled track, its alot of extra heft you dont need.
---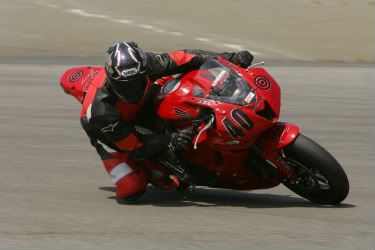 Training Wheel Hero
Join Date: Jun 2008
Location: Cookeville, TN
Posts: 33
Thanks: 0
Thanked 0 Times in 0 Posts
Feedback Score: 0 reviews
CV is dead on....don't waste money modifying the bike...find one in good working order....and I'd spend money in this order:

maintenance- flush coolant, change oil, make sure the chain is in well serviced condition, brakes are bleed, brake pads not showing excessive wear, no leaks, ect.

Protection- good gear and health insurance are a MUST!

Tires- easy to spend alot of money here; but its not necessary. A good set of high performance street tires should be fine for your first few outings....don't worry you'll use them up quickly enough.(qualifiers, BT-0016's, pilot powers)

Suspension Sag set-up- you can do this yourself; there are several great articles on the net. If your not a wrencher pay someone..cause if its wrong...nothing else matters; you'll be miserable.

Track time- travel, entry fees, hotel, food all add up. A fantastic track bike that sits in the garage ain't worth much; this is why you do it...so spend as much money here and as little elsewhere as you can.

This and that- couple good camp chairs, a cooler and a canopy of some type all make a weekend at the track far easier IMO.

ENJOY!
---
---
Last edited by invaderzoom; 06-24-2009 at

11:09 PM

.