Knee Dragger
Join Date: Oct 2006
Posts: 135
Thanks: 0
Thanked 0 Times in 0 Posts
Feedback Score: 0 reviews
mint 2007 cbr600rr white/silver 7k OBO Delaware low mi.
---
Garage kept, 2nd owner, bought this bike with 800 miles, All the servicing has been done, oil changes, oil filter, has been on point. It needs a new front tire.
The bike has a scorpio alarm installed with pager, flush mounts. All stock parts are kept in a safe place in my garage. Never layed down.
approx 3800 miles with a fresh oil change and filter.
Ill get uptodate pictures in a sec
I'll also include my shoei helmet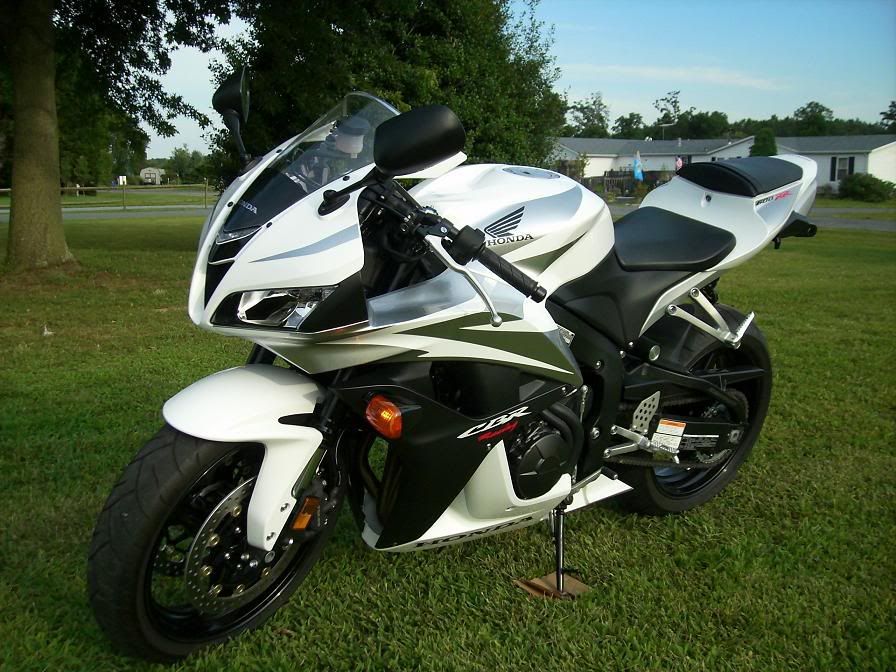 ---
2007 CBR600RR stock for now
2002 SS Camaro close to stock low miles, 12.151 @ 114
1998 dodge neon built 2.4 pt67
---
Last edited by Crazy3rdgen; 11-19-2010 at

04:24 PM

.
AMA Supersport Racer ** BOTM 08/10 **
Join Date: Jul 2007
Posts: 1,838
Thanks: 33
Thanked 17 Times in 17 Posts
Feedback Score: 7 reviews
Looks Brand New. Reminds me of mines when I brought her home.
GLWS
---
Live to Ride...Ride to Live
R.I.P Dad 4/9/07 Love You and Miss you
R.I.P PhatStud
Go 49'ers!!!!!
SF Giants 2010 World Series Champions
SF Giants 2012 World Series Champions
Go Warriors!!!!!!
BOTM Winner 01/12
Join Date: May 2010
Location: Bushkill, PA
Posts: 614
Thanks: 22
Thanked 40 Times in 25 Posts
Feedback Score: 6 reviews
That is a beautiful bike! Exactly what I want, white low mileage 07. Too bad its way out of my budget :(
---
No Sig Pic, trying to save you some bandwith!
Thank you to all of our service members, past and present, who have risked their lives for us.
OIF Veteran
08 CBR - Red/Black: Not Stock
My Build:
https://www.600rr.net/forums/showthread.php?t=239602