Join Date: Jul 2007
Posts: 70
Thanks: 0
Thanked 0 Times in 0 Posts
Feedback Score: 0 reviews
Knee Dragger
Join Date: Apr 2008
Posts: 120
Thanks: 0
Thanked 0 Times in 0 Posts
Feedback Score: 0 reviews
good video of the track day
Join Date: Jul 2007
Posts: 70
Thanks: 0
Thanked 0 Times in 0 Posts
Feedback Score: 0 reviews
gutted both camera stopped before i binned it :D
Moto GP Racer
Join Date: Nov 2005
Location: SoCalifornia
Posts: 3,375
Thanks: 0
Thanked 0 Times in 0 Posts
Feedback Score: 1 reviews
I wouldnt even bother paying for track days up there dude, too good a chance of rain ruining it as well as increasing you're chances of crashing by like a bajillion.

Haha, I love how you guys call trash cans the bin though, binned the bike!!
Join Date: Jul 2007
Posts: 70
Thanks: 0
Thanked 0 Times in 0 Posts
Feedback Score: 0 reviews
tbh mallory was spot on for weather the otherday, donny got good in the afternoon, but take alot more thinking when its wet!
now its coming summer think there should be a few good days in it, EMRA club racing seemed to get about 3rounds of wet weather last year so that wasnt too bad, so *touch wood* i dont trash can it again :D
05/10 BOTM
Join Date: Jan 2008
Location: London
Posts: 583
Thanks: 0
Thanked 8 Times in 1 Post
Feedback Score: 0 reviews
Donny is notorious for being slippy as hell when it's wet.
But in the dry it's up there with the best of them.
Looking forward to venturing there sometime this year.
07 TRACK SLAG!
Join Date: Apr 2006
Location: London
Posts: 6,618
Thanks: 0
Thanked 27 Times in 18 Posts
Feedback Score: 16 reviews
nice vid. Donny is my nemesis, it always rains when i go. i love the track, but i know i can still lap soo much faster. i like getting abit sideways in the damp onto the back straight, don't you love wets!!

actually don't you love going sideways.

What camera's are you running is it a 46kam?
Join Date: Jul 2007
Posts: 70
Thanks: 0
Thanked 0 Times in 0 Posts
Feedback Score: 0 reviews
nope, it was a $50 doller jobby i got whilst on tour in afghanistan curtasy of the US :D did it as a whim and it was awsome, then took it to mallory where i used it on the front, and mate A2k on rear, when i binned it the A2k melted on the can :D, still runs fine just looks bit gash. went for a blat to bury (towards bognor) /loomies (towards portsmouth) with a mate who thru a stone into the lense tho, dug out the smashed glass and seems to be ok, but battery got wet at mallory and has been playing up a bit at the mo.
the other site i frequent has discount organised on dogcams and is setting up a group buy on them for some more pennies off, so getting two cams and 2 drives for front and rear - only thing now is with race sub frame trying to get manufacturer to weld in some chicken wire or something i can cable tie logger, camera drives, PC3 etc etc
Dont particuarly like the A2ks paul, batterys drain too quick (Li Io for me, or off the battery - trouble is a total loss kinda kicks that back :D ) and the quality is far from amazing (watch mallory video, all the rear stuff is A2K on best quality!) so for rockingham on the 14th its lookin good for dogcams :D Im working on a power rig for the bike at the moment, cant be bothered for multipul power leads etc so making a single connector for everything that ill mount to the underside of the undertray/subframe, to carry logger channels, PC3 channels, power for camera(s) etc all in one lead so all i got to do is get off, plug this in and forget about it, not be faffing around with loads of leads for everything.
(NB if anyone wants in (UK only- sorry dont have time to ship plus they will be PAL and UK mains adapted) for the dog cams pm me and ill send you details :)
07 TRACK SLAG!
Join Date: Apr 2006
Location: London
Posts: 6,618
Thanks: 0
Thanked 27 Times in 18 Posts
Feedback Score: 16 reviews
if you have any pics of your cam set-up would be great
Join Date: Jul 2007
Posts: 70
Thanks: 0
Thanked 0 Times in 0 Posts
Feedback Score: 0 reviews
sorry mate, this is best i got never thought to get a snap of the camera?!. cameras had it after the off at mallory too :(
wheel arch, left side of bike - (right side in pic)
cable ties and a whole lot of luck holding it in :D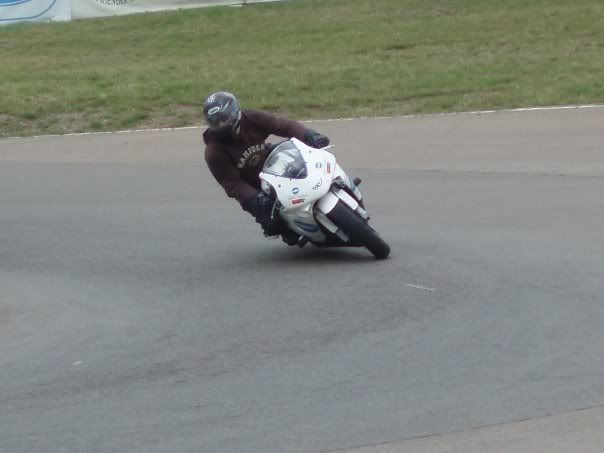 Posting Rules

You may not post new threads

You may not post replies

You may not post attachments

You may not edit your posts

---

HTML code is Off

---