Knee Dragger
Join Date: Dec 2009
Posts: 119
Thanks: 0
Thanked 2 Times in 2 Posts
Feedback Score: 5 reviews
fuse?
---
Was riding home tonight and looked down and saw nothing on the gauges but still lit up. Bike started to chug along like i was outta gas until it died. When i tried to restart it the fuel pump wasn't engaging so I pretty much ran outta gas. I figured its the master fuse. Anyone have a problem like this?
AMA Supersport Racer
Join Date: Feb 2012
Location: Glendale, AZ
Posts: 511
Thanks: 44
Thanked 40 Times in 36 Posts
Feedback Score: 1 reviews
Well, did you check the fuse? Or did you at least check the battery?

I had a similar issue; but it wasn't the fuse, it was the failing fuel pump. My pump would prime and start up just fine; but on the expressway the fuel pressure would drop down to like 20psi when I would crack the throttle. When this happened the bike would start to die, as if I ran out of gas.
---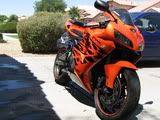 '06 600RR
(my build thread
here
)
Two Bros Black Series CF Slip-on
Vortex Rearsets
HEL SS braided brake lines
Tripage FE
Weighted Bar Ends
Aluminum Grips
Adjustable Shorty Levers
Shogun Swingarm Spools
Stomp Grips
Motodynamic Sequential LED Tail Light
LP Smoked Speed Screen
HB Flushmount Signals
Knee Dragger
Join Date: Dec 2011
Location: Ashland,OH
Posts: 174
Thanks: 6
Thanked 11 Times in 9 Posts
Feedback Score: 0 reviews
I really dont know if this relates at all but i had sort of the same problem but it was my stator r/r connection
---
Knee Dragger
Join Date: Dec 2009
Posts: 119
Thanks: 0
Thanked 2 Times in 2 Posts
Feedback Score: 5 reviews
Well I got home and let it sit for a little bit and went to try to start it for the hell of it. The fuel pump ingaged fine not it just wouldnt start as if the battery was dead. So I put it on the slow charger to see if its just a battery I need to replace. I bought a cheaper battery a couple years ago cause i need one that day and hopefully its just that taking a sh*t on me\.
AMA Supersport Racer
Join Date: Apr 2007
Location: Adelaide
Posts: 1,160
Thanks: 1
Thanked 20 Times in 17 Posts
Feedback Score: 0 reviews
but you havent checked the fuses yet?
Knee Dragger
Join Date: Dec 2009
Posts: 119
Thanks: 0
Thanked 2 Times in 2 Posts
Feedback Score: 5 reviews
No. I was to annoyed last night after pushing it home to look gonna check today
Posting Rules

You may not post new threads

You may not post replies

You may not post attachments

You may not edit your posts

---

HTML code is Off

---