Join Date: Mar 2006
Posts: 885
Thanks: 0
Thanked 0 Times in 0 Posts
Feedback Score: 0 reviews
Can you bend your forks back?
---
Well after my little lowside about 8 months back the wheel and the bars arnt lined up the wheel is about maybe 1/2 inch off.. it may just be it needs adjusted by someone other then me but theres a cahnce the frosk are bent.. If itake them off anyway to get them 100 stright or close to it?
AMA Supersport Racer
Join Date: Nov 2006
Location: San Luis Obispo, CA
Posts: 1,045
Thanks: 0
Thanked 2 Times in 2 Posts
Feedback Score: 5 reviews
Some of the professional suspension guys can straighten fork tubes if they arent too bad. You would have to check into it though im not sure how much it costs or where the repairable/not repairable cutoff is.
---
First make an "S".............for snake, uh.................I mean.............dragon. Then a more different "S".
Join Date: Aug 2003
Posts: 261
Thanks: 0
Thanked 2 Times in 2 Posts
Feedback Score: -1 reviews
Get some straight ones from eBay. That thing will never rider right with those forks.
Join Date: Aug 2005
Posts: 192
Thanks: 0
Thanked 0 Times in 0 Posts
Feedback Score: 0 reviews
Several companies can straighten them while retaining the original strength. One I can think of off the top of my head is traxxion, and there is another in Cali I can't think of right now. It's like 30 bucks a tube, so with shipping you might drop 80-90 bucks.
Join Date: Feb 2005
Posts: 540
Thanks: 0
Thanked 0 Times in 0 Posts
Feedback Score: 0 reviews
if u hit hard enough to bend the forks, check the frame right at the neck by the tripple tree...
Join Date: Jun 2005
Posts: 1,821
Thanks: 0
Thanked 14 Times in 7 Posts
Feedback Score: 0 reviews
You can get it machine straightened if they aren't too bad.
Mine were like this before....now they are
almost
good as new.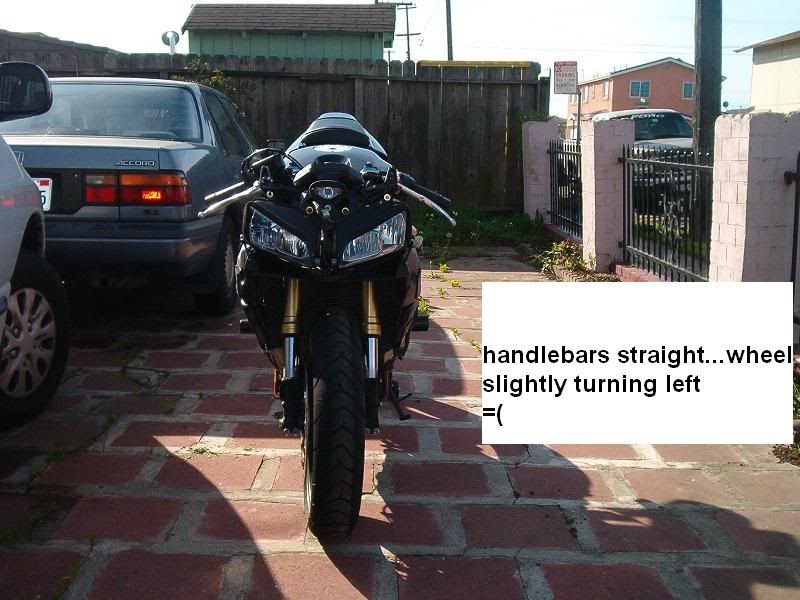 fast03600rr
Join Date: Jul 2006
Location: Indianapolis, IN
Posts: 9,995
Thanks: 89
Thanked 51 Times in 33 Posts
Feedback Score: 15 reviews
i would try loosening up your triple trees and try to straighten them out before i went out looking for new forks.
---
Phatstud
07 Dyna
07 Bagger
07 RMZ 250


Training Wheel Hero
Join Date: Mar 2007
Posts: 68
Thanks: 0
Thanked 1 Time in 1 Post
Feedback Score: 0 reviews
If your not familiar with suspension have a pro look at it. That looks pretty far off if you can see it in a photo, thats bad.

You can't always see a bend visually. The problem is if it compresses and it is bent, it can stick in the position. Thats dangerous.

It could also be a bent tree, wheel axle, wheel bearing. Don't confuse the bars being straight with the trees being straight. Is your clipon bent?

You can put it on a tree stand or support the front end. Take the wheel and forks off. Check the front axle. Check your trees and retorque the head bolt. Lay your forks next to each other and see if you see a bend. Go over everything twice and find the problem before you ride it.
---
Last edited by gkotlin; 03-23-2007 at

11:07 AM

.
Posting Rules

You may not post new threads

You may not post replies

You may not post attachments

You may not edit your posts

---

HTML code is Off

---