Join Date: May 2007
Posts: 2
Thanks: 0
Thanked 0 Times in 0 Posts
Feedback Score: 0 reviews
bent radiator cap
---
Hey, I know theres a million posts about overheating bikes on this forum, but I havent found a solution to mine. I had a small get-off and now my bike is leaking radiator coolant. It's idling at 220 and gets up to 240 pretty fast and I have to turn it off.

It turns out the part of the radiator where the cap fits on is warped into an oval shape. I'm guessing it's not pressurized correctly cause of this. There are no other leaks and the fan turns on fine. Is there any easy way to fix this? I hate to be stingy, but Im a college student and I don't have a lot of cash lying around for a new radiator.

Oh, and its a 2004 if that makes any difference. thanks
Moto GP Racer
Join Date: Apr 2004
Location: Santa Monica, CA
Posts: 4,407
Thanks: 0
Thanked 2 Times in 2 Posts
Feedback Score: 1 reviews
if its the radiator spout thats ovalized, you are replacing the radiator. get a used one here or on ebay. I needed a fan and ended up buying a fan with a radiator attached (was damaged). they're pretty available...
---
Pablo...2004 cbr600rr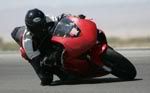 Join Date: Sep 2006
Posts: 479
Thanks: 0
Thanked 0 Times in 0 Posts
Feedback Score: 0 reviews
Your best bet is ebay, there are companies that could repair it but it will end up costing you as much as buying a good used on on ebay.

You should be able to find one for $100-150 max.
Join Date: May 2007
Posts: 2
Thanks: 0
Thanked 0 Times in 0 Posts
Feedback Score: 0 reviews
thanks for the quick response guys. I actually managed to fit a cylinder tube into into and use it as a lever to reform the circle. Flushed the system and put a new cap on, everything works fine :01_thumbu thanks again
Posting Rules

You may not post new threads

You may not post replies

You may not post attachments

You may not edit your posts

---

HTML code is Off

---